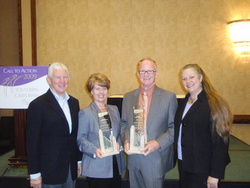 (Vocus) October 19, 2009
In recognition of its ongoing commitment to protect the elderly from financial exploitation, First Bank received a Visionary Award during the Elder Financial Protection Network's (EFPN) 2009 Call to Action conference on September 16 in Long Beach, California.
Accepting the Visionary Award on behalf of First Bank was Susan Montoya, Vice President & Corporate CRA Officer for First Bank, and an EFPN board member.
A daylong conference, the EFPN Call to Action brought together hundreds of professionals in Southern California to share the newest, most innovative ways of preventing elder financial abuse. First Bank served as one of several sponsors for the conference.
EFPN is a California-based nonprofit organization dedicated to fighting elder financial abuse through innovative partnerships that build public awareness, drive community outreach and provide professional training.
First Bank is one of the largest privately owned banks in the country with more than $10.3 billion in assets and over 209 locations in California, Missouri, Illinois, Texas and Florida.
###