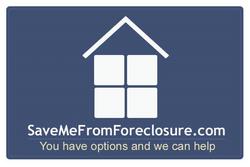 Blaine, WA (PRWEB) February 14, 2008
Today SaveMeFromForeclosure.com, LLC announced their sincere appreciation to the White House and Congress for their swift action in passing the Mortgage Forgiveness Debt Relief Act of 2007. This new legislation will make a huge impact on the millions of Americans who are under financial stress from increasing mortgage payments, the declining real estate market and potential foreclosure.
The Mortgage Forgiveness Debt Relief Act of 2007, HR 3648, protects homeowners from paying taxes on cancelled mortgage debt. This means that homeowners who have fallen behind on their mortgage and owe more than what their home is worth can often times have their debt cancelled through what is called a short sale. A short sale occurs when a lender agrees to write off the portion of a mortgage that is higher than the value of a home, provided there is a buyer willing to purchase the property. Short sales are often a good tool to help homeowners stop foreclosure.
"This relief couldn't have come at a better time. With the recent mortgage crisis and declining home values, homeowners are desperate for some sort of relief from the government to help them avoid foreclosure. This Act not only helps individuals who are already financially stressed by a mortgage payment they could not afford get out of their crisis, but also ensures that they won't be hurt even worse by a huge tax bill at the end of the year," said Justin Lee, CEO of SaveMeFromForeclosure.com, LLC.
Before the passage of the Mortgage Forgiveness Debt Relief Act of 2007 lenders would issue homeowners a 1099 for the amount of the forgiven debt that would in turn be treated as taxable income. The newly passed Act now allows homeowners forgiveness of these taxes after a short sale is done to halt a foreclosure. The Act is also retroactive to January 1, 2007. So as homeowners gear up to file their taxes this year many who had to use a short sale to stop foreclosure will no longer have to pay taxes on their forgiven debt.
SaveMeFromForeclosure.com specializes in helping clients who have fallen behind on their mortgage payments or are facing foreclosure. The company has local representatives across North America who can offer comprehensive solutions to foreclosure problems.
SaveMeFromForeclosure.com was originally launched in 2004. As a family owned and operated company providing foreclosure prevention and consultation service, the company has grown into an international firm with local representatives throughout the United States and Canada helping homeowners stop foreclosure.
###