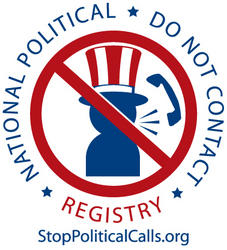 These calls only annoy me and make me want to avoid the political process. These calls are every bit as annoying as the ones I already block with the (federal)
Washington, D.C. (PRWEB) December 10, 2007
The Iowa Caucuses and the New Hampshire primary are only weeks away and yet political phone calls are already invading voters' homes. In fact, The Pew Research Center for the People and the Press found that 81% of Iowa caucus voters received robo-calls during November. According to members of the National Political Do Not Contact (NPDNC) registry, they are currently receiving between five and nine calls each day during election season. The majority of current members - 56 percent - at the NPDNC are between the ages of 55 and 74, which is also the group most likely to vote in the United States.
Fortunately, voters can now take action to stop unwanted political calls. A website (StopPoliticalCalls.org) launched in late October by the National Political Do Not Contact (NPDNC) registry, a non-partisan, non-profit organization, is designed to stop politicians from calling voters at home, particularly automated (or "robo") calls.
The NPDNC Registry gives voters two ways to manage political calls:
1) Voters may register one phone number for free at StopPoliticalCalls.org if they simply want to stop politicians from contacting them. However,
2) For those voters who want to choose which politicians contact them, how they are contacted and on what issues, they go to the same website and register to become a Charter Founder Member for $1.24. Once a member, they then complete following categories:

Phone numbers
Mailing address
Email addresses
Political affiliation
Communication preferences, if any: email, phone, mail
Candidates and/or parties they want to hear from, if any
Issues of interest to them: education, health care, war, energy, economy, etc.
"I started the registry to give voters back their sanity during election season," said Shaun Dakin, founder and CEO of the NPDNC. "Many voters consider their homes to be a sanctuary and consider calls from politicians and political groups to be invasive. That experience alone can turn people off from the entire electoral process. If the NPDNC can significantly reduce political calls during the 2008 election, we will have delivered an important win for the American family and for our political system overall."
The NPDNC fills a void in the Federal Trade Commission's (FTC) National Do Not Call (DNC) registry. Because the First Amendment protects political speech, political calls are specifically excluded from the DNC. While Americans have registered nearly 150 million phone numbers with the DNC, Georgetown University research determined that 3 out of 4 voters do not know that political calls are exempt from the DNC. This gaping loophole has become a national epidemic. In the final weeks of the 2006 election, 64 percent of voters (almost 90 million voters) received recorded messages, according to the Pew Internet & American Life Project. Approximately 40 percent received between three and nine automated phone calls during the campaign.
Privacy and Security:
The NPDNC takes an individual's right to privacy very seriously. All information provided by registrants will be shared only with the politicians who are being asked not to call. Absolutely no personal data will be sold to a third party without the registrant's express permission - the candidate, for example. The website is highly secure, using state-of-the-art data encryption with servers located in a secure environment that is monitored 24/7. Only screened and approved NPDNC employees are allowed access to the system.
About the National Political Do Not Contact Registry:
The National Political Do Not Contact Registry is a program of Citizens for Civil Discourse (CCD), non-partisan, non-profit organization (federal 501(c)(3) status pending) dedicated to elevating political discussion in the United States. CCD is based on the premise that the decline of civility in American political dialogue has diminished our nation's capacity to address urgent problems. Founder and CEO Shaun Dakin believes that citizen action is required to restore decency, respect and common sense to public debate in this country.
CCD created the National Political Do Not Contact registry as a first step towards its goal by reducing unwanted political phone calls, particularly automated messages ("robo" calls), which frustrate and annoy voters regardless of party and ultimately reduce political participation. Because the U.S. Constitution protects political speech, CCD advocates addressing this issue not by enacting new legislation but by encouraging voters to take back control of the political conversation and make free speech a two-way exchange. Learn more at StopPoliticalCalls.org.
What people are saying…
Members of the NPDNC registry have said:
"In exempting themselves from the National Do Not Call Registry rules, the politicians only reinforced the widely-held belief they are more interested in their own interests than constituents' privacy."
"These calls only annoy me and make me want to avoid the political process. These calls are every bit as annoying as the ones I already block with the (federal) "do not call" list. The fact that (politicians) have exempted (themselves) is arrogant."
"If I receive a call from you, I will vote against you!"
"I refuse to vote for anyone who calls my home asking me to vote for them."
"When I am harassed by telephone, it makes me want to vote for your opponent, who at least had the courtesy to leave me alone."
"The calls got so intrusive from one candidate during the last Presidential election that I actually felt compelled to volunteer to work for the other one. Your calls had the exact OPPOSITE effect you desired. Keep it up and I'll start contributing money too!"
"These intrusive calls tend to discourage me from listening to, never mind voting for, the candidate. Also, if they leave a message on my answering machine, it's deleted before the message is even heard, so they may as well re-direct their campaign funds."
###