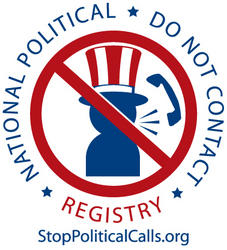 For the cost of a cup of coffee, voters can determine exactly how they want to be communicated with, from who and on what issues
Washington, D.C. (PRWEB) November 19, 2007
For those voters who want to choose which politicians contact them, they now have a tool to do just that, by registering at StopPoliticalCalls.org, for $1.24. Launched in October, the National Political Do Not Contact Registry (NPDNC) is a non-partisan, non-profit organization is designed to stop or control which politicians call voters at home, particularly with automated (or "robo") calls.
With the Iowa Caucuses and the New Hampshire primary weeks away, political phone calls are already invading voters' homes. According to current members of the National Political Do Not Call Registry, they currently receive between five and nine calls each day during election season.
Voters can sign up for free if they want to completely remove their home number from political call lists. However, if they want to be contacted, but want to control who contacts them, on what issues and by what method, they now have a choice. For $1.24 per calendar year, consumers can choose which politician contacts them (by party or individual name), on what issues they care about and by which method (email, phone, or mail) they prefer to be contacted.
"For the cost of a cup of coffee, voters can determine exactly how they want to be communicated with, from who and on what issues," said Shaun Dakin, the founder and CEO of Citizens for Civil Discourse (CCD), the parent organization of StopPoliticalCalls.org. "While many voters don't want any political calls at home, there are some voters that do want to hear from candidates, or from the party they identify with, or the campaign of a particular candidate they are interested in learning more about. The membership fee at the registry gives them options they did not have previously."
During the 2006 election, 64 percent of voters received automated "robo" calls from politicians, according to the Pew Internet & American Life Project. Approximately 40 percent of voters received between three and nine automated phone calls during the campaign. Market research conducted by the NPDNC during the summer of 2007 at Georgetown University overwhelmingly confirms that U.S. voters want to stop candidates from abusing their right to political speech. Almost three-quarters of respondents said they are likely to sign up for a political Do Not Contact registry.
In order to join the registry, consumers go to StopPoliticalCalls.org and click to become a Charter Founder Member of the NPDNC. Once a member, they then fill in the following categories for contact preferences:

Phone numbers
Mailing address
Email addresses
Political affiliation
Communication preferences: email, phone, mail
Candidates and/or parties they want to hear from, if any
Issues of interest to them: education, health care, war, energy, economy, etc.
The NPDNC fills a void in the Federal Trade Commission's National Do Not Call Registry (DNC). Because the First Amendment protects political speech, political calls are specifically excluded from the DNC. While Americans have registered nearly 150 million phone numbers with the DNC, Georgetown University research determined that 3 out of 4 voters do not know that political calls are exempt from the DNC.
To sign up for the paid membership or the free service, voters simply visit StopPoliticalCalls.org and register their contact information. The NPDNC Registry will then notify political campaigns of the registrant's preferences. If politicians and political campaigns fail to honor the voter requests, they risk losing votes. Because the NPDNC has no legal authority to regulate candidates' behavior, it must rely on the influence voters to force the necessary change. The organization is asking the candidates to take a "Do Not Contact" pledge and promise not to call the numbers listed on the registry.
Privacy and Security
The NPDNC takes an individual's right to privacy very seriously. All information provided by registrants will be shared only with the politicians who are being asked not to call. Absolutely no personal data will be sold to a third party without the registrant's express permission - the candidate, for example. The website is highly secure, using state-of-the-art data encryption with servers located in a secure environment that is monitored 24/7. Only screened and approved NPDNC employees are allowed access to the system.
About the National Political Do Not Contact Registry
The National Political Do Not Contact Registry is a program of Citizens for Civil Discourse (CCD), non-partisan, non-profit organization (federal 501(c)(3) status pending) dedicated to elevating political discussion in the United States. CCD is based on the premise that the decline of civility in American political dialogue has diminished our nation's capacity to address urgent problems. Founder and CEO Shaun Dakin believes that citizen action is required to restore decency, respect and common sense to public debate in this country. CCD created the National Political Do Not Call Registry as a first step towards its goal by reducing unwanted political phone calls, particularly automated messages ("robo" calls), which frustrate and annoy voters regardless of party and ultimately reduce political participation. Because the U.S. Constitution protects political speech, CCD advocates addressing this issue not by enacting new legislation but by encouraging voters to talk back and make free speech a two-way exchange. Learn more at StopPoliticalCalls.org.
###