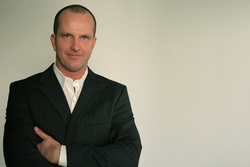 It's extremely rare that attendees actually feel the need to review it. After those initial 4 hours the vast majority quit smoking for good. And they do so without any nicotine withdrawals or weight gain
Los Angeles, CA (PRWEB) April 9, 2009
TV- and Radio Personality Franc Tausch, who was last heard Sundays on Southern California's
popular Talk 97.1 Free FM, is a former pack-a-day smoker with a deep understanding of how to quit smoking for good. For over a decade he has been the 'go-to' Smoking Cessation Hypnosis Expert for Hollywood's rich and famous who want to give up smoking.
His clients came from as far as New York, Canada, London, Australia and New Zealand. "But not every smoker could afford the luxury to get on a plane and fly to see me, so I decided to help them out by coming their way," says Tausch.
Seeing that it is consistently producing stunning success rates in Los Angeles and San Francisco, he is now regularly taking his popular Stop Smoking Seminar to New York, Florida (Miami and Orlando), Houston, Chicago, San Diego, Las Vegas and London, UK.
Since the recent tax hike on tobacco in the United States increased the price of a pack of cigarettes to nearly $10 in New York and $7.50 in San Francisco, smokers are more motivated to break the habit and give up smoking than ever before.
And to make the idea of quitting smoking even more palatable, Franc Tausch offers participants of his Stop Smoking Seminar a 1-year review guarantee, good at any of the 10 locations in the U.S. or the UK.
"It's extremely rare that attendees actually feel the need to review it. After those initial 4 hours the vast majority quit smoking for good. And they do so without any nicotine withdrawals or weight gain," adds Tausch. "They are quitting smoking without any harmful drugs, and without wasting time, money and hope on methods that have extremely high failure rates for smoking cessation, like acupuncture, laser treatment, the nicotine patch or nicotine gum."
He points out that registration for each event is limited, to ensure that everyone gets as much value out of the seminar as possible.
As a result of their popularity and effectiveness, Franc Tausch will also continue to offer his exclusive Quitting Smoking Program for companies, as well as his private, one-on-one Quit Smoking Sessions at a location convenient for the client.
For further information on the Stop Smoking Seminar visit http://ForeverSmokefree.com or contact their offices in the U.S. at (800) 815-7322, or in the UK at +44 20 7060 0264.
###