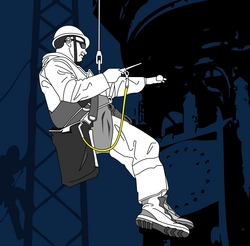 Dropped Objects are one of the main causes of incidents and accidents in the Drilling Industry
Pasadena, TX (PRWEB) November 4, 2010
Stopdrop Tooling Ltd is pleased to announce the appointment of Industrial Air Tool as Distributer for the USA based oil and gas industry.
Stopdrop Tooling provides Hand Tools which have been designed to prevent dropping when working "At Height". These tools are commonly called tools at height, tools aloft or tethered tools. The tooling is designed and modified to enable user freedom and maintain product functionality but continue to safely control the tool. When secured to a tool lanyard, the tools are prevented from dropping.
Industrial Air Tool is the preferred supplier for many drilling contractors based in the Houston, Texas area. Their expertise in Tooling as well as Safety products makes Stopdrop Tools are natural addition to their product offering.
Dropped Objects are one of the main causes of incidents and accidents in the Drilling Industry. When working at height in the derrick of a drilling rig, workers frequently accidentally drop objects. At 90 feet or more, these objects can cause serious harm to people and equipment. Tools are one of the most common causes of these dropped objects and account for a large percentage of the incidents. Many drilling contractors including Transocean, Seadrill and Maersk are using Stopdrop Tools to prevent this from happening.
# # #