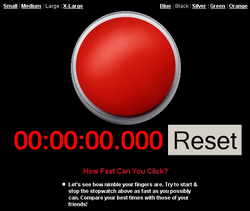 The Online Stopwatch Games are called How Fast Can You Click and The Five Second Stopwatch Game.
San Francisco, CA (PRWEB) July 3, 2010
Everyone finds stopwatches useful sometimes, but so few of us have a stopwatch around when we really need one. In such cases, web users can search on the internet for a very effective Online Stopwatch. OnlineClock.net created its popular online stopwatch application several years ago and since then it has grown to have many fans around the world. But now the popular online alarm clock website has also released several versions of its online stopwatch designed as simple browser games.
Tom Churm, creator and owner of OnlineClock.net, stated it this way: "After we'd published our Online Stopwatch on the internet, we noticed that quite a few people on web forums began mentioning several kinds of games they liked to play using our stopwatch. This gave us an idea: if we could create different versions of our stopwatches which would be especially designed just for playing similar games, we might win a few new fans, especially from those people who are interested in playing online games and browser games."
And this is exactly what Online Clock has done. To begin with, OnlineClock.net has created two new stopwatch games. The Online Stopwatch Games are called "How Fast Can You Click" and "The Five Second Stopwatch Game".
In the "How Fast Can You Click" stopwatch game the goal couldn't be any more simple. You have a large stop and start button, and you simply try to start and stop the online stopwatch as quickly as you can. Results are measured in milliseconds. Mr. Churm stated that, although this is the simplest stopwatch game, it's also the most popular, probably because it is, as he claims, "highly addictive". Online Clock hopes that players everywhere will send their best scores to their friends and family members, and that the game will have a viral effect.
The second stopwatch game is called "The Five Second Stopwatch Game" and it involves trying to guess exactly when five seconds have elapsed on an online stopwatch. (But users can actually choose any other number of seconds to use in the game besides just five seconds.) To play this stopwatch game, users must position their computer mouse over the stop/start button, then close their eyes, click the start button, and try to guess exactly when their number of chosen seconds has elapsed.
All of these games, and apparently more games to be released in the future, will be reachable via a new Online Stopwatch Games start page on Online Clock website:
http://stopwatch.onlineclock.net/games/
"We've noticed that OnlineClock.net has a large and growing number of online gaming fans, especially among our younger visitors," said Mr. Churm. "We hope that our new Stopwatch Games will please them, and lovers of simple browser games everywhere."
When asked if further online stopwatch games are planned for OnlineClock.net, Mr. Churm enthusiastically replied, "You can't stop us!".
About OnlineClock
Online since March 24th, 2006, Online Clock, the Online Alarm Clock was the world's first online alarm clock website. Online Clock strives to be the number one network for the simplest, most useful and best Online Clocks, Timers and Time Tools. For more information on the various online alarm clocks offered for free by OnlineClock, please visit http://onlineclock.net/about/
###