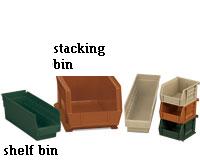 Our storage bins sell themselves
Boston,MA (PRWEB) January 23, 2013
A Plus Warehouse is offering the winter 2013 storage bins promotion this February to encourage more storage bins business in a typically slower season. Storage bins are used by customers for any number of purposes, but typically they are used in conjunction with industrial shelving or racking. A Plus Warehouse is a nationwide materials handling dealer that focuses on storage equipment including storage bins and shelving. Since storage bins can be bulk , shipping rates can be higher than experienced with other products sold at A Plus Warehouse.
The sale is a freight equalization promotion whereby freight is subject to a maximum percentage of order value. For the month of February 2013, A Plus Warehouse is capping freight charges on storage bins to 25 percent of the retail value and an absolute minimum charge of $99.50. Customers will be able to order knowing the maximum amount of shipping , removing uncertainty from the buying decision. The sale covers the entire line of storage bins offered at A Plus Warehouse. According to Ed Stairman, "Our storage bins sell themselves! Our capped freight promotion is sure to generate lots of business!" Since winter time can be a slower season for storage bins sales , it only makes sense that A Plus Warehouse would offer the promotion in the winter.
There are several types of storage bins that customers should consider. The following is a listing of good selling storage bins at A Plus Warehouse:
(1) Akro Earth Saver Recycled Bins – Stackable bins that are environmentally friendly that also are available in colors. Old fashioned recycled bins are black only. Akro Earth Saver bins come in hunter green, Sandstone, and Terra Cota
(2) Quantum Clearview Bins – Similar sizes as Quantum 'ultimate' bins , but see through. These storage bins are used to a great extent in hospitals.
(3) Rack Bins – Storage bins that are pallet sized. These are not your grandpa's storage bins!
(4) Extra High Shelf Bins – Manufacturers now produce shelf bins 6 inches high as well as the traditional 4 inch high version.
(5) Akro System Bins – Plastic bins with integrated dividers. System bins are 36 inches wide , so one bin fits perfectly on a standard sized 36 inch wide shelf. Why bother with multiple individual bins when a system bin can do the whole job?
(6) Bin Cabinets – A Plus Warehouse provides metal storage cabinets pre-engineered with storage bins included. Why spend the effort figuring out how many bins can fit in a cabinet. A Plus Warehouse offers pre-engineered bin cabinets.
A Plus Warehouse sells storage bins nationwide, and has since 1996. Customers should not hesitate to contact A Plus Warehouse and take advantage of the winter 2013 storage bin promotion.