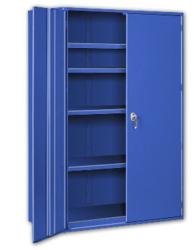 We provide Great Value In Storage Cabinets - Every Day !
Boston, MA (PRWEB) February 29, 2012
A Plus Warehouse is pleased to announce the storage cabinets surge promotion. This is a very interesting promotion that will last from March 1 to April 30, 2012. The intent is to get A Plus Warehouse customers to order more storage cabinets and enjoy A Plus quality and service. Starting at any order for at least 4 storage cabinets, a one percent discount is will be applied to each additional item. In other words, a 4 piece order for storage cabinets would have a 1 percent discount while a 5 piece order would have a 2 percent discount – with the discount reaching a maximum of 10 percent at 13 pieces. In order to collect the discount, just tell the sales person about the "Storage Cabinets Surge"
Why specifically storage cabinets? A Plus Warehouse considers storage cabinets to be a staple of their offering, as most all customers have something to store. Many customers however know A Plus Warehouse for the other items sold here. A Plus Warehouse is a great conveyors supplier as well as a pallet racks supplier as well. A Plus Warehouse wants to inform all the customers not ordering storage cabinets from A Plus Warehouse that they are ready to deal.
According to Ed Stairman , President of A Plus Warehouse, "We provide every day great value in Storage Cabinets – We need to cross pollinate." Mr. Stairman refers to cross pollination as the process by which a loyal pallet rack customer becomes a storage cabinets customer. The company provides world class service through all lines offered.
When considering a storage cabinet, the first thing to consider is capacity. The lower the gauge of the steel used, the more rugged the unit. For the best capacity, A Plus Warehouse suggests Stronghold 12 GA storage cabinets. The second heaviest duty would be 14 gauge as provided by Durham, Parent Metal, and Hallowell List, and Lyon Work Space. Jamco also provides a fine 14 Gauge storage cabinet. The list is not exhaustive , as A Plus Warehouse provides 14 Gauge Storage Cabinets from other manufacturers as well. 16 an 18 gauge are considered industrial strength as well. For unassembled commercial grafe storage cabinets, Tennsco and Penco are both great – and there is always Edsal from Chicago.
There are many companies that sell storage cabinets, but A Plus Warehouse offers a compelling value proposition – even without the storage cabinets surge promotion.
A few words on A Plus Warehouse: A Plus Warehouse is a master distributor offering a wide range of storage equipment including storage cabinets.
###