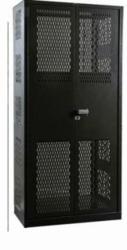 14 GA cabinets are the perfect middle ground between 12 GA and Industrial Storage Cabinets
San Francisco, CA (PRWEB) December 14, 2012
Storage cabinets are certainly a staple of A Plus Warehouse's product offering. When a tier one vendor produces a new item in the storage cabinet space, it is a news-worthy occurrence! Hallowell-List, long admired for the industrial quality 800 series of storage cabinets, and more recently the commercial quality 400 series storage cabinets has released 14 gauge all welded storage cabinets.
According to Ed Stairman, "The Hallowell List 14 Gauge storage cabinets are the perfect middle ground between 12 gauge super heavy duty and 800 series storage cabinets" Although the 12 Ga and 800 series together accounts for eighty percent of the industrial market, there is still the remaining 20 % of excellent A Plus Warehouse customers that deserve attention. 14 Gauge welded storage cabinets have a per shelf capacity that exceeds 1,000 pounds in cases. Clearly a 14 GA storage cabinet has the capacity required by many, many customers.
There are two new storage cabinets in the 14 GA line by Hallowell-List. These are the vented and see through metal cabinets. The see through version is great for checking the contents of a secured cabinet without issuing keys. The vented version is for more effective ventilation. Both styles are in stock for immediate delivery in Tennessee and are charcoal in color. Truly, charcoal and black are the new gray. More and more customers have been requesting black as a special color. It only made sense to offer these dark colors as a standard option at no additional charge.
The Hallowell List storage cabinets line is large and getting larger, so it merits some attention. Here are some of the storage cabinets available through A Plus Warehouse by Hallowell-List:
1. 12 Gauge storage cabinets – All welded and ready to use. Shelf capacities approach 2,000 pounds per shelf. 12 Gauge storage cabinets are the most durable cabinets available
2. 14 and 16 Gauge standard storage cabinets – These cabinets are either heavy or extra heavy duty and are quite a bit like the storage cabinets that are described in this press release
3. 14 Gauge specialty storage cabinet – Heavy duty cabinets provided either in see through or vented design
4. Rust Resistant storage cabinets – Great for damp ( but not wash down ) applications
5. 400 series storage cabinets – a commercial grade cabinet line. This line is available in parts or set up. The 400 line is wholesale distribution's answer to the storage cabinets available at the big box stores.
Any customer wishing help in ordering storage cabinets should call A Plus Warehouse at 800-209-8798. A Plus Warehouse has customer service agents ready to help, and a handy storage cabinets buyers guide as well. Please contact A Plus Warehouse with any questions on the Hallowell List storage cabinets line, or any materials handling question or opportunity.