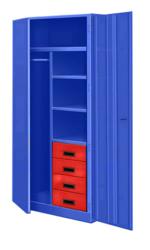 A Plus Warehouse has the storage cabinets you want and need. Order now and experience A Plus Warehouse service!
San Francisco,CA (PRWEB) August 08, 2012
Storage Cabinets are the key to industrial storage, and A Plus Warehouse has the storage cabinets industry requires. There are several high quality storage cabinets lines that A Plus Warehouse carries. Each of these lines has a place in the A Plus Warehouse stable. A Plus Warehouse is running a special through the end of September 2012 on the entire spectrum of quality storage cabinets offered by A Plus Warehouse. The special is a seven percent discount for any storage cabinet order in excess of four units. This can add up quickly with some items costing in the multi thousands of dollars.
Hallowell storage cabinets are unique due to their line depth and nationwide stock position. Hallowell provides storage cabinets not only in metal, but also corrosion resistant. Don't settle for only full width shelves! Hallowell stocks combination storage cabinets and wardrobe cabinets as well.
Tennsco approaches storage cabinets in a slightly different way. Tennsco offers storage cabinets as well as wardrobe and combination cabinets as Hallowell, but offer a wider range of colors. Tennsco also has a fine offering of storage cabinets that are shipped unassembled to save on shipping. Unassembled storage cabinets are great for customers that are able to do light assembly work.
The A Plus Warehouse KingCab line of storage cabinets is very durable with 12 gauge construction. Customers that want to store 1,900 pounds per shelf should certainly look at the A Plus Warehouse KingCab line.
According to Ed Stairman, President of A Plus Warehouse," A Plus Warehouse has the storage cabinets you want and need! Order now and experience A Plus Warehouse Service!" Customers should certainly take advantage of A Plus Warehouse's vast storage cabinets offering, especially with the promotional discount running.
When considering storage cabinets, customers should consider checking out the A Plus Warehouse BigBlue storage cabinets line. BigBlue is the only two tone storage cabinet offered as a standard in the industrial market. Due to the computerized painting system and lean manufacturing involved in production, two colored storage cabinets can be manufactured at no additional cost for single unit runs! Not so long ago , a two tone storage cabinet would either go unproduced , or would be subject to a giant set up fee and an indeterminate lead time. The standard BigBlue storage cabinet is dark blue with red components. A Plus Warehouse offers these storage cabinets in a veritable rainbow of other colors as well – and still for no extra charge. BigBlue storage cabinets are very popular with the military , police departments, universities, and fortune 500 companies.
A Plus Warehouse is a nationwide distributor and looks forward to helping with any requirement.