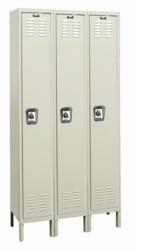 Storage Lockers Are In Stock And Ready To Ship - Now!
Dallas, TX (PRWEB) April 05, 2012
Hallowell List has been a major supplier of lockers for A Plus Warehouse, and now their line has become even broader. Storage Lockers are in great demand, and Hallowell's quality focus and national distribution make for a compelling value. Storage lockers are used in apartment buildings and warehouses as well. A storage locker is typically see through made from a metal mesh or woven wire. A great thing about the Hallowell storage lockers is that the product can be quite a bit larger than a standard metal locker.
When looking at ordering a storage locker, please remember that a standard storage locker does not include a top or back panel.
To simplify the ordering process, A Plus Warehouse offers top and back panels as part of the standard offering. It is not necessary to request a special quote as the items are online with the storage lockers themselves. One other fact is that storage lockers are single or double tier. When ordering a long run, simply order one starter and the balance in adders. An adder is a starter with a missing side panel. The side panels are shared in a run. Why would a customer want to pay for extra side panels. Save money at A Plus Warehouse by ordering starters and adders.
There are some features of the Hallowell bulk storage lockers to mention. Each unit has heavy duty 13 gauge 7 knuckle 3 ½ inch butt hinges. A long heavy gauge hinge with many knuckles makes for greater capacity. When a customer orders a storage locker, the customer should expect the hinges to hold the door with no sagging. Count on A Plus Warehouse and Hallowell for a no sag solution. For the same reason, there is a welded door brace included. Of course A Plus Warehouse is a service first dealer, and satisfaction is the ultimate goal. Ordering storage lockers or requesting a quotation is quite simple. Most customers request information by model number. As a service first company, A Plus Warehouse also offers quotations from a sketch. For those customers that don't want to convert a sketch to a bill of material, quotes can be generated from conceptual sketches in many cases. Customers count on A Plus Warehouse for such products as conveyors, pallet racks, carts and lockers. The addition of Hallowell's storage lockers makes a positive difference in the products offered. Please contact A Plus Warehouse at 800-209-8798 or email eds(at)apluswhs(dot)com with any questions.