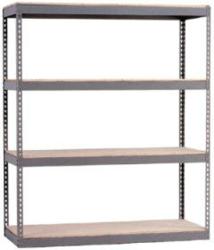 We can broaden our portfolio of products sold by offering storage systems consultation
Boston,MA (PRWEB) December 29, 2011
Storage systems are a specialty of A Plus Warehouse, and A Plus Warehouse now offers free initial consultation on storage systems. Storage systems are basically a variety of storage related items used in consort to make an integrated system. Products included in a storage system may well be: Storage cabinets, pallet racks, warehouse shelving, storage bins, and even conveyors and work benches. As a nationwide dealer of all these items, it is only logical that A Plus Warehouse should offer assistance to customers considering complete systems.
According to Jim O'Sullivan, product manager, "Many of our customers focus on individual needs. We can broaden our portfolio of products sold to these customers by offering storage systems consultation". A Plus Warehouse is pleased to act on this great concept. With such a great offering of conveyors, storage cabinets, lockers, and shelving, it only makes sense to provide an integrated solution. Each of the sections of storage solutions deserves some attention. Of course, conveyors are an important part of any storage system , as a conveyor transports items to where they are stored. A Plus Warehouse stocks a wide variety of conveyors including Roach Conveyors and Rollaway as well.
For storage cabinets, A Plus Warehouses offers fully assembled or unassembled storage cabinets for those that want to save money on shipping and have the ability to assemble on their own. A Plus Warehouse provides storage cabinets from Hallowell, Pucel, Penco, Edsal, Parent Metals, and other providers as well.
A Plus Warehouse shelving and pallet racks work when open storage is a better solution than closed , and security is less of an issue. Warehouse shelving can either be open or closed style and is available from A Plus Warehouse in a variety of capacities. Industrial shelving can have elevated capacity when the metal is bent into an I Beam design. The shelf itself produces the added capacity through additional rigidity.
A Plus Warehouse makes pallet rack easier as well by offering pre-configured pallet racks. A Preconfigured pallet rack includes the proper amount of uprights and beams and also wire decking, when standard. A Plus Warehouse does this simply because ordering pallet racks can be confut rsing and can result in item mismatch and capacity mismatch as well. With preconfigured pallet rack , the system will always work.
About A Plus Warehouse:
A Plus Warehouse is a nationwide distributor offering storage solutions to industry. A Plus Warehouse provides items such as storage cabinets, conveyors, industrial shelving and pallet racks, and has done so since 1996
###