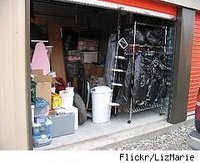 "Many auction hunters are looking at storage auctions as the new eBay, except you can easily make a 4 figure profit per unit purchased,"
Asheville, NC (PRWEB) February 7, 2011
A few years ago storage unit auctions was an unknown industry left only to the few who knew about it. Now millions of Americans are looking to their local self-storage facilities to nab that next great deal, start a business or even decorate their homes.
The popularity of the industry has motivated many individuals to seek out these auctions which, according to auction listing website storageunitauctionlist.com exceed 12,000 auctions per month nationwide.
In Charlotte, North Carolina, local storage facilities have seen a tremendous rise in turnouts for their auctions. "Many people visit storage auctions just to get a Saturday morning full of entertainment and they come by the hundreds," one Facility Manager said.
Each year the 50,000 storage facilities throughout the United States must auction unpaid or abandoned storage units to the general public resulting in an estimated 1.2 billion dollars in goods changing hands.
"Many auction hunters are looking at storage auctions as the new eBay, except you can easily make a 4 figure profit per unit purchased," said Maddison Lake, President of StorageUnitAuctionList.com. "With as many as 1.2 million individual units going on the auction block each year, there's plenty to go around. We have many subscribers who have made their full-time business centered on storage auctions, with some owners having as many as 20 to 30 employees and multiple warehouses up to 10,000 square feet."
The reason for this startup industry could easily be due to the popular new show "Storage Wars". In January, A&E ordered 20 new episodes for the second season of the newly introduced show, which is scheduled to premiere in April. The show currently attracts over 2.3 million viewers per episode and is expected to grow. Original Productions based in Burbank California, added "Storage Wars" among its roster of productions such as "Deadliest Catch" and "Ice Road Truckers," in November of 2010.
"Dynamic characters on 'Storage Wars' like Jarrod Schulz and Darrell Sheets are putting a face on the storage industry and putting character on a metal building with a concrete slab. This could only mean good things for the storage industry," said Lake.
# # #