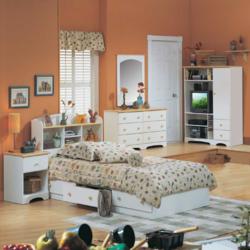 New Year's resolution: Clear the clutter
Houston, TX (PRWEB) January 12, 2011
Houston, TX (PRWEB) May 8, 2011 -- Home and Bedroom Furniture has just added several new storage beds and units from South Shore Furniture to its inventory of high-quality discount furniture. Homeowners whose New Year's resolutions include getting organized and spending less money are in luck. Each new item helps solve even the most difficult disorganization problems at an attractive price point.
According to a December 2010 survey conducted by Harris Interactive, an estimated 61 percent of U.S. adults pledged to get more organized in the New Year, making organization the number one New Year's resolution for 2011. While this particular poll applied to business communication, getting organized is a popular personal goal as well. And what's the biggest detriment to making it happen? In a January 1, 2011 "Florida Today" article titled "New Year's resolution: Clear the clutter," a National Association of Professional Organizers member stated emphatically, "The biggest thing for most people is things don't have a home, and you have to give it a home."
Giving one's clutter a home is as simple as creating or adding more storage space to the home or office, but unfortunately that can prove a very expensive proposition. And with 13 percent of Americans resolving to spend less money this year, getting organized is likely to be as tricky as ever in 2011. By adding new storage beds, dressers, nightstands and kids' bedroom chests from South Shore Furniture, Home and Bedroom Furniture is helping individuals stick to their organizational resolutions without breaking the bank.
A leading North American furniture manufacturer, South Shore Furniture was established in 1940 and has been making furniture for three generations. The company's mission is to maintain its reputation as a recognized brand in the creation and manufacturing of affordable furniture. That vision aligns perfectly with Home and Bedroom's commitment to offering top-quality bedroom and storage solutions at prices up to 60 percent lower than retail.
An online provider of quality discount furniture, Home and Bedroom has just added several South Shore items to its existing inventory of affordable storage beds, bedroom sets and childrens beds. The latest additions include dressers, chests and nightstands in a versatile assortment of finishes that can take them beyond the bedroom to resolve storage issues in other parts of the house. These warm and inviting country-style furniture pieces are available in chocolate, pure white, golden oak, sunny pine, vanilla cream and sumptuous cherry finishes to complement every décor.
For more information on all the top-quality storage beds, metal beds, and childrens beds by South Shore as well as Fashion Bed Group, Hillsdale Furniture and Atlantic Furniture, contact Jennifer Macala at 281-758-0832. To see all of the organization-friendly furniture pieces the company has to offer, visit Home and Bedroom Furniture online at http://www.home-and-bedroom.com.
# # #