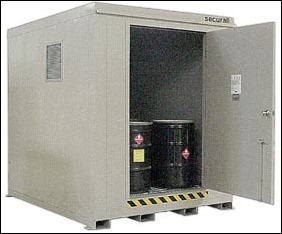 Lynn, MA (PRWEB) March 27, 2007
A Plus Warehouse hazardous waste storage buildings and storage lockers are pre-engineered and custom-designed to allow customers to achieve compliance with federal and state environmental regulations.
A Plus sells hazardous waste storage buildings which include storage shelving that provide fire-rated, segregated, safe and secure storage for flammable, combustible, corrosive, and other chemical liquids. The chemical storage buildings sold by A Plus Warehouse are specifically designed for the safe storage of hazardous materials with secondary containment.
A Plus carries hazardous chemical storage building that will fit any storage requirements, as well as UL listed accessories to customize each storage situation.
A Plus Warehouse carries pre-engineered and custom-designed storage buildings that allow customers to achieve compliance with federal and state environmental regulations. A Plus carries a variety of individual storage lockers including both fire-rated as well as non fire-rated chemical storage building selections. Each type is distinctive in its uses and advantages.
All hazardous waste storage buildings are made with explosion relief construction and explosion-roof appliances with 100-500 psf wall resistance. They feature air-tested sump containment, Chillers, hold-down brackets, a static ground system, fire make-up vents and hazard placards and labeling.
These waste storage buildings are designed to meet the high-end requirements of the model safety codes. These include the model building codes (NBC, ABC), fire codes (NFC, AFC), energy codes (MNEC), mechanical codes, plumbing codes (NPC), handicapped codes, and electrical codes (CEC).
A Plus Warehouse offer warranties ensuring that all local and provincial permitting licenses will be secured prior to building installation and confirm the proper use of listed components tested by nationally recognized testing laboratories.
To learn more about hazardous materials storage buildings call A Plus Warehouse today at 800-209-8798 or visit http://www.apluswhs.com.
About A Plus Warehouse
A Plus Warehouse is an online business-to-business distributor of quality industrial equipment including storage lockers, heavy duty pallet racks, warehouse racks, conveyors, work benches, steel shelving, and dock equipment. With an extensive selection of brand name manufacturers, hard-to-find products and exclusive offerings, A Plus Warehouse has everything a business needs to maintain a high level of efficiency and productivity at one convenient online destination.
###