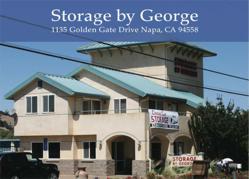 San Francisco, CA (PRWEB) October 08, 2012
This Class A storage facility located at the gateway to Napa Valley consists of 547 storage units along with 133 climate-controlled units, as well as pallet storage for wine. Built in 1999, this well located storage facility's loan was due to mature and the Borrower wanted to maximize leverage and pull cash out above their original development costs.
According to Slaugh, "The partnership self-managed the asset, and had since pulled out all original equity. Given current market conditions and a bias against "cash-out" refinance due to broader market conditions, there were very few lenders willing to loan on an asset that no longer had any cash equity in the deal."
Steelhead Capital marketed the request to over 40 different lenders nationwide ranging from CMBS lenders, life companies, regional banks and mortgage REIT's. Ultimately, Steelhead was able to identify a small handful of lenders actively considering self-storage and delivered a non-recourse storage loan to refinance the underlying existing debt and provide over $2m in "cash-out" to the Borrower.
Peter Slaugh founded Steelhead Capital – a San Francisco-based commercial mortgage banking platform – in 1998. Prior to founding Steelhead Capital, Mr. Slaugh originated commercial loan transactions for all property types at GMAC Commercial Mortgage.
Over the last decade, Mr. Slaugh has originated well in excess of $3 billion in commercial real estate debt, mezz debt and equity transactions. His extensive knowledge of the capital markets significantly enhances the his clients' ability to aggressively leverage acquisition and renovation costs in order to maximize investor returns.
About Steelhead Capital:
Since 1998, Steelhead Capital, Inc. has been a premier provider of apartment loans, commercial financing solutions, and advisory services for commercial real estate investors. Steelhead Capital brings an extensive network of lending sources, structured finance experience with a focus on acquisitions, and a clear commitment to personalized customer service to investors financing properties in any of the 50 states.
For additional information about Steelhead Capital or to submit a commercial loan request, please contact Peter Slaugh or visit SteelheadCapital.com.