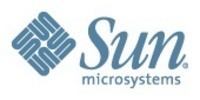 Our portfolio of Open Storage platforms has expanded with the addition of Sun's new Sun Storage J4000 family and an addition to our high-performance, high-value Sun Fire X4500 Thumper systems
SANTA CLARA, Calif. (PRWEB) July 9, 2008
The total market for Open Storage is expected to surpass $10 billion by 2010 and the low-end storage market will grow at a CAGR of almost 23% over the next three years, driven in large part by the flexibility and breakthrough economics presented by open source software running on general purpose storage systems and arrays. Sun is the first major vendor to recognize this shift and took steps ahead to add industry leading storage services and data protection functions to Solaris ZFS, introduce the world's first hybrid server and storage platform in the Sun Fire X4500 family and also create the world's first Open Storage community within OpenSolaris.
"Our portfolio of Open Storage platforms has expanded with the addition of Sun's new Sun Storage J4000 family and an addition to our high-performance, high-value Sun Fire X4500 Thumper systems," said John Fowler, executive vice-president, Systems Group, Sun Microsystems, Inc. "These new building blocks deliver impressive density and capacity while empowering customers to take advantage of the efficiencies of general purpose storage powered by open source software." Please hear John Fowler talk more about how these products fit into the Open Storage industry here: http://sunfeedroom.sun.com/?fr_story=FRdamp281480&rf=bm
Customers, Partners Love Saving Money with Open Storage
PixelPark AG, Oregon State University, IT.com and Manukau Institute of Technology were among the first customers to see the flexibility and breakthrough economics of Sun's new Sun Storage J4000 family. In fact, these companies reported even greater cost savings through the use of Sun Fire servers and Solaris operating system. Please see more about customers and Open Storage here: http://www.sun.com/customers/testimonials/jbod.jsp
German IT infrastructure services leader PixelPark AG is an early access customer to the new Sun Storage J4000 platform. "With the Sun Storage J4000 arrays, our hard costs are very low — less than $1 per gigabyte for our bulk storage applications — while also delivering solid performance," said Thorleif Wiik, IT Director, Pixelpark AG. "Its high-density drives also conserve valuable rack space. And it works with multiple systems, which means we can better mix and match components as our business needs change. This product clearly reflects Sun's commitment to innovation in Open Storage."
Long-time Sun customer Oregon State University looks to Sun to support oceanic observatories that require large continuous streams of complex, multi-dimensional data and a new approach to managing storage.
"The Sun Storage J4500 array offers us high reliability, fast performance, and simple IT management. For example, now we don't have to reconfigure the underlying storage devices when we add disks to our Solaris ZFS–based storage pool, so the J4500 array's full capacity is immediately available. This solution demonstrates Sun's Open Storage leadership, bringing together the best advantages of open-source software and industry-standard hardware," said Chuck Sears, Manager Research Computing, College of Oceanic and Atmospheric Sciences, Oregon State University.
Sun Leapfrogs Competition with New Sun Storage J4000 Family
Sun delivers breakthrough economics for the Sun Storage J4000 family when combined with Sun's industry leading servers. With the best price/performance for a disk array, J4000 has over twice the performance/$ of the next best competitor per SPC-1(1). The Sun Storage J4000 family is also the industry's most scalable and reliable with up to two times the storage density, three times the connectivity, two times the availability and up to 10 times more available capacity than traditional low end storage products.
In addition, this new family offers customers a very cost effective $3000 starting price and breakthrough pricing below $1 per GB for bulk storage applications. Additionally, the industry leading high density with up to twelve drives per rack unit, the Sun Storage J4000 family saves precious rack space. When used with OpenSolaris and industry leading servers from Sun, storage costs are reduced by up to 90%. Also, unlike traditional storage deployments, Sun Open Storage environments allow customers to freely mix and match components and re-use hardware by adding new software as their business needs change.
Three new systems were added to the portfolio – in addition to new connectivity technology:
Sun(TM) Storage J4200 system: With up to 12 drives per tray and up to 46 SAS/SATA drives; Sun(TM) Storage J4400 system: Offers up to four drives per tray, up to 6 SAS ports, up to max 192 3.5" SAS/SATA drives; Sun Storage J4500: Four rack unit offers an industry-leading 48 drives per tray, up to four SAS ports and up to 480 3.5" SATA Drives; Sun StorageTek(TM) SAS RAID HBA: Host based RAID HBA for Sun servers that allows the Sun Storage J4000 systems to connect directly to servers through one or more high speed interfaces for highly scalable external storage expansion. Enables customers to connect the Sun Storage J4000 family to Solaris, Linux, or Windows operating systems or can be deployed into Open Storage and OpenSolaris environments. New Sun Fire X4540 Server: High Performance and Highly Efficient
Sun is extending its Open Storage server product family with the only combined server/storage array from a major vendor able to scale up to 48 drives in a single enclosure. Sun pioneered the hybrid server/storage appliance market, which delivers industry-leading performance, capacity and power/space savings. The Sun Fire X4540 storage server is the first Open Storage server that integrates low cost industry standard server and storage components under an open architecture, and runs Solaris OS and Solaris ZFS. It provides customers with higher performance for lower costs. The Sun Fire X4540 is addressing the largest growth segment in the storage industry -- low cost yet high capacity disk storage based on SATA technology.
Due to the close proximity of the storage components to the compute components, the Sun Fire X4540 system is a great fit for high-performance computing (HPC), storage grid, business intelligence and data warehousing and video streaming, among other applications. The new Sun Fire X4540 system is available at the same price point as the Sun Fire X4500 Thumper system and demonstrated double the performance over the first generation at the same low power consumption. The new Sun Fire X4540 storage server has also been certified on the following software: Sun(TM) MySQL database, Greenplum datawarehouse, CopperEyes secure data retrieval, and Zmanda ZRM for Sun(TM) MySQL data backup.
Pricing and Availability
The Sun Storage J4000 family starts at $3000 and is available immediately. The Sun Fire X4500 storage server family starts at $22,000 and is available this month.
For more information, please see http://www.sun.com/openstorage
About Sun Microsystems, Inc.
Sun Microsystems develops the technologies that power the global marketplace. Guided by a singular vision -- "The Network is the Computer(TM)" -- Sun drives network participation through shared innovation, community development and open source leadership. Sun can be found in more than 100 countries and on the Web at http://sun.com
Sun, Sun Microsystems, the Sun Logo, Solaris, Sun Fire, Sun Storage, StorageTek, OpenSolaris, Java, and The Network Is The Computer are trademarks or registered trademarks of Sun Microsystems, Inc. or its subsidiaries in the United States and other countries.
(1) The Sun Storage J4400 Array SPC-1 Submission identifier A00068 results of 7201.32 SPC-1 IOPS (TM), $1.73/SPC-1 IOPS (TM) over a total ASU capacity of 2,194.000 GB with unprotected data protection level and a total TSC price (including three-year maintenance) of $12,446.
This compares with the IBM (TM) System Storage DS3400 SPC-1 Submission identifier A00061 results of 9000.88 SPC-1 IOPS (TM), $3.79/SPC-1 IOPS (TM) over a total ASU capacity of 981.132 GB with mirrored data protection level and a total TSC price (including three-year maintenance) of $34,127.
For full disclosure reports see http://www.storageperformance.org/results/benchmark_results_spc1