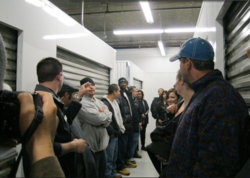 It surprises me, even after twelve years, what some of the regulars can see. Jewelry boxes hidden in the back...
Chicago, IL (PRWEB) October 07, 2011
LifeStorage, Chicago self storage provider for home and business, records management and office solutions, currently holds auctions bi-monthly at its 17 Chicagoland locations, but starting January of 2012, auctions will take place every month. LifeStorage is also experimenting with online unit auctions. Currently, three LifeStorage locations have units online up for bid. For LifeStorage, it's a new way to auction that can potentially reach a much larger audience of bidders.
"We're trying to see what the market is like for online bidding. It's a different way of doing things and we're researching it to see how effective it is. For bidders, there are pros and cons. Not having to leave your desk is definitely a plus, but you don't quite get the same experience as you do in person. You can't tell as much about the contents of a unit from a computer," said Matt Clark, Vice President of Operations for LifeStorage, and a 12-year veteran of the storage industry and auction process.
The auction is the worst-case scenario of renting a storage unit, but also one of the more intriguing aspects of running a storage company. If a tenant is 30 days late on their rent, a lien is placed on the storage space and payment is demanded. LifeStorage tries to give its customers every opportunity to make payment, so while the process starts within the first month after a renter becomes delinquent, units aren't auctioned until a renter is at least two months late.
"We notify them via mail, phone, attempt to contact them by email if provided, and also post an advertisement of the auction in a local newspaper twice before the auction is held. We make regular phone calls until the moment a unit is sold. At LifeStorage, we do everything within our ability to contact our customers to try and work out a payment plan before we sell their items at auction. It's only a last resort that we hold public auctions to reclaim a rental space. We also do everything within our power to have personal items returned, like photos, birth certificates, wedding albums, anything of a very personal nature, we try very hard to convince the buyers to return those possessions, and no other company does that. We have a heart," Clark said.
Storage auctions have become something of a fad of late, with multiple television shows covering the subject. The auction process is fairly straightforward. Illinois has very stringent guidelines that LifeStorage follows regarding restrictions, notifications and advertisements that need to be placed before an auction is held. Once on site, the rules are announced to bidders, who are then allowed to view a unit's contents for about five minutes without actually entering the space. Then the live bidding takes place and the unit is sold to the highest bidder.
"It surprises me, even after twelve years, what some of the regulars can see. Jewelry boxes hidden in the back, boxes of brand new merchandise, antiques the people that are experts at this have a source to resell all of the stuff they find. They have a system and it's really impressive how they can make a living at this," Clark said.
For a list of upcoming LifeStorage auctions, please visit LifeStorage facebook page and look for the events tab or follow LifeStorage on twitter.
###