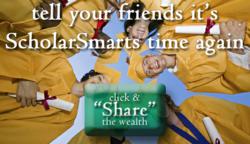 Columbia, MO (PRWEB) July 25, 2012
StorageMart self storage announced today the winners of the StorageMart 'ScholarSmarts' program. The scholarship award is designed to reward students from any level of higher education in the United States or Canada who may not otherwise find themselves eligible for more "traditional" scholarships. The program will provide five students with $1,000 gifts.
Recipients of the Fall 2012 ScholarSmarts Scholarships are:

Gloria Cardona of the University of Texas-Pan American (Edinburg, Texas)
Val Andrew Fajardo of the University of Waterloo (Waterloo, Ontario)
Mike Wilson of the University of Victoria (Victoria, British Columbia)
Chandler Smith of the New York Film Academy
Ashley Deutsch, currently of Ennis (TX) High School and the University of Texas-Arlington this fall
Recipients were chosen on the basis of essays written answering the question "What link is there between a clutter-free workspace and increased productivity" or "How has self storage improved your lifestyle". Winning essays have been published to the Storage Insider, StorageMart's blog sites. The winning essays were chosen from a pool of nearly 2,000 submissions.
ScholarSmarts differs from many scholarship programs in that its eligibility is open to any student enrolled at any college, university, apprenticeship program or other institution of higher learning. This open eligibility was designed to allow for a wide spectrum of students, but particularly non-traditional students, to apply.
Additionally, the $1,000 gifts are given directly to the recipients, allowing for their use toward any expenses involved with the pursuit of higher education, whether they be tuition, books, rent/mortgage or even child care.
StorageMart will launch another ScholarSmarts program leading up to the beginning of the winter semester 2013. Stay tuned for updates on the company's Facebook page and Twitter @StorageMart.
About StorageMart
StorageMart is an international self storage company with locations across the United States and Canada. The company is one of the largest privately-owned self storage companies in the industry, offering residential and commercial self storage units for rent, as well as moving and packing supplies at each location.
StorageMart ScholarSmarts is just the latest program from StorageMart. The company also supports local charities within its communities, including Habitat for Humanity and the Ronald McDonald House, as well as many adoption and foster care programs, local animal rescue missions and more.
The company recently partnered with Charity Storage, to serve as drop off locations for charity self storage auctions. Charity Storage is featured on A&E's Storage Wars; the non-profit organization donates all proceeds of the auction to Kure It and other charities identified by each self storage operator.
For more information about StorageMart, visit http://www.Storage-Mart.com