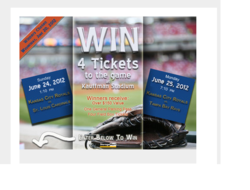 Kansas City, MO (PRWEB) June 21, 2012
StorageMart, the leading Kansas City self storage provider is pleased to announce the latest winners in the summer-long Kansas City Royals ticket giveaway promotion.
Mike M. and Sherri I., both of Kansas City, will each receive four tickets and a parking pass for the dates of Sunday, June 24 (when the Royals host the St. Louis Cardinals) and Monday, June 25 (for a game against the Tampa Bay Rays), respectively.
Mike and Sherri were chosen at random from among the nearly 200 entrants who registered via StorageMart's Facebook page (http://www.facebook.com/StorageMart) by answering the question "What Would You Do with the Extra Space Gained in Your Home by Renting a Storage Unit".
StorageMart will continue to give away tickets to see the Royals in action throughout the summer as well as tickets for the All-Star Game FanFest coming to the Kansas City Convention Center as part of the 2012 Major League Baseball All-Star Game, being played at Kauffman Stadium.
About StorageMart
StorageMart is a full-service self storage company with more than 130 locations across the United States and Canada. The company is one of the largest privately-owned self storage companies in the industry, offering residential and commercial self storage Kansas City units for rent, as well as moving and packing supplies at each location.
StorageMart Gives is the charitable arms of the company, striving to identify partner organizations in local markets. Additionally, the StorageMart 'ScholarSmarts' program awards $10,000 annually to students pursuing higher education