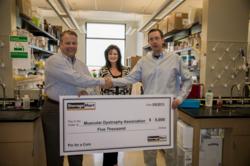 Columbia, MO (PRWEB) May 15, 2013
Surrounded by beakers, lab tables, and microscopes, StorageMart President, Cris Burnam met with Dr. Lorson, PhD. and Patti Butera, MDA Area Manager, to present the results of StorageMart's "Pin for a Cure" Pinterest campaign.
StorageMart pledged to donate up to $5,000 each time the Pin for A Cure image was pinned from their blog http://www.storage-mart.com/blog/charity-fundraisers/pin-for-a-cure-on-the-brink-of-curing-spinal-muscular-atrophy/. StorageMart was able to donate the full $5,000 dollars during the March and April campaign thanks to the Muscular Dystrophy Association community and the Pinterest and Facebook followers of StorageMart.
"We are so very fortunate to have the support of StorageMart. They are true friends of our community and the families served by the MDA," stated Patti Butera, Area Director, MDA.
The MDA supports, in part, Dr. Lorson's research to cure Spinal Muscular Atrophy (SMA). Dr. Lorson's research is conducted at the University of Missouri in Columbia, MO where he has identified pathways that, when treated, can help to improve this debilitating disease that affects 4 out of every 100,000 people.
The MDA is a not-for-profit agency dedicated to fighting muscular dystrophy and the various diseases that fall under this category. That fight includes research, awareness, health care services, support and advocacy, and summer camps.
To learn more about the MDA, please visit their website http://www.mda.org.
StorageMart is a leader in the self storage industry and focuses on improving the lives of children among the company's many communities. StorageMart partners with companies such as the MDA, Habitat for Humanity, and the Ronald McDonald House as well as launching their own support through their "Draw My Favorite Teacher" and "StorageMart ScholarSmarts" programs.
To learn more about StorageMart, please visit their website at http://www.storage-mart.com.
Sponsorship requests of StorageMart may be submitted online to: http://www.pinpointclient.com/storagemart.