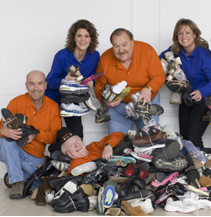 Kansas City, MO (PRWEB) September 30, 2011
Twelve StorageMart locations in the Greater Kansas City area are collecting shoes for Shoeman Water Projects purification initiatives. Between now and November 15, 2011, the company has set a goal of 15,000 pairs of shoes and are asking area schools, churches, businesses and community organizations to join this effort by organizing shoe drives to help meet this goal. Every shoe-wearing individual can help by simply cleaning out their closet and dropping off the shoes they no longer want or wear at a StorageMart location. It's "shoe" easy!
Shoes collected will be sold to retailers in third world countries who provide affordable footwear for people who need shoes to protect their feet against parasites, abrasions and infection. Proceeds from these sales go to dig wells and provide water purification systems for those who thirst.
Shoeman volunteer and drive coordinator, Melanie Dearing of Harrisonville, MO noted that all types of shoes are needed but they must be free of rips or holes and should be tied or rubber banded together when dropped off. Larger amounts of shoes can be placed in black trash bags and dropped at StorageMart during regular business hours, which vary but range between 9:30 a.m. and 6:00 p.m., Monday through Friday and 9:30 to 2:00 p.m. on Saturday. Anyone interested in being part of this drive in Kansas City should call 816-226-7360 for additional details.
"It's a great project for students from Kindergarten through college and it's rewarding to know that a simple donation of a pair of shoes can actually help to save lives," said Dearing. "We hope to get strong participation from schools to help us meet our goal. Fifteen thousand pairs of shoes will go a long way to bringing clean water to a village."
In addition to serving as drop off locations, the four main StorageMarts in Johnson County will be providing free storage for shoes collected throughout the drive. StorageMart donates space to Shoeman Water Projects for local shoe drive events across the country.
StorageMart Kansas City drop off locations include:

Southwest Blvd. & Rainbow - 195 Southwest Blvd., Kansas City, KS 66104
17th & Grand – 1720 Grand Blvd., Kansas City, MO 64108
Broadway & 34th – 3401 Broadway St., Kansas City, MO 64111
76th & Wornall Road – 7536 Wornall Road, Kansas City, MO 64114
Wyandotte & 150 Hwy – 14151 Wyandotte St., Kansas City, MO 64145
I-29 & 152 Hwy – 8900 NW Prairie View Rd., Kansas City, MO 64153
169 Hwy & NE Cookingham – 11510 N. Main, Kansas City, MO 64155
67th and I-35 - 9702 West 67th St., Merriam, KS 66203
75th and I-35 - 7460 Frontage Road, Merriam, KS 66203
151st and Antioch – 15201 Antioch Road, Overland Park, KS 66223
95th and I-435 – 16101 West 95th St., Lenexa, KS 66219
135th and Antioch – 9220 West 135th St., Overland, KS 66221
StorageMart is a fully integrated, privately owned real estate operation company that owns and operates over 135 self-storage properties in the United States and Canada. In addition to self storage units, the company sells moving and storage supplies in every office. These supplies include items such as boxes, tape, bubble wrap, mattress covers and much more.
Since August 2008, Shoeman Water Projects has collected over 1.6 million pairs of shoes that have resulted in the purchase of 4-water-well drilling rigs, more than 250 wells, water purification system installations and well pump repairs that serve over 200,000 people serving clinics, schools, and others in villages across the globe. To find out more about organizing a shoe drive and obtaining information and shoe drive organizing resources, go to http://www.shoeman.org.
###