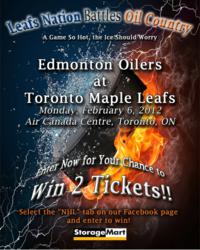 It's easy to enter; it takes less than 1 minute
Columbia, MO (PRWEB) December 22, 2011
StorageMart today announced that it will give away a pairs of tickets to two lucky winners to attend the Edmonton Oilers vs. Toronto Maple Leafs at the Air Canada Centre in Toronto, Ontario on February 6, 2012.
Why would a self storage company give away hockey tickets? Sarah Little, Interactive Marketing Director at StorageMart explains, "Local youth and adult sports leagues often use our storage space in the off-season. The Canadian Football League's Argonauts rent self-storage here and our customers are sports fans - Canadians are sports fans! Basically we look for any excuse to give something away that we know our customers will enjoy."
"It's easy to enter; it takes less than 1 minute," said Sarah. To enter the drawing, participants can visit StorageMart Canada's Facebook page and select the "NHL Ticket Giveaway" tab. The entry form is as short as possible, only requiring a name, email address and prediction of who you think the winner will be.
The deadline to enter is midnight (CST) February 1, 2012. StorageMart will announce the winners via their Facebook page on February 2, 2012.
About StorageMart
StorageMart is a full-service self storage company, offering moving and packing supplies as well as clean and affordable storage units. The company owns and operates over 130 self storage properties in the Canada and the U.S. StorageMart funds the "StorageMart ScholarSmarts" program, which annually awards $10,000 in educational scholarships. The company partners with many local charities and events including the Okotoks Pro Rodeo, local humane societies and more.
###