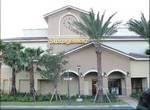 Miramar, FL (PRWEB) June 05, 2012
StorageMart today announced their "Monday Madness" moving discount at their Miramar self storage facility. The discount offers a one-day only savings on 5x5 storage units for just $29.00 per month, for up to six months, a total savings of over $150.00.
The "Monday Madness" discount will run on June 11, 2012 and is valid to in-store customers only at the StorageMart on Miramar Pkwy & Dykes Rd in Miramar, FL. This discount can be combined with StorageMart's "99% Off Your First Month" promotion so that customers pay less than 50cents for their first month's rent.
Why would StorageMart discount self storage units in the midst of their busiest time of year? "It's simple," says Sarah Little, StorageMart spokesperson. "Once customers understand how easy StorageMart makes moving, they're going to remember us and they will tell their friends about us."
Sarah reports that StorageMart enjoys a large percentage of repeat and new customers who were recommended by a friend because of the friendly service and clean, affordable storage units you can rely on at StorageMart. The company offers a "Refer a Friend" program, which awards a $50 discount to both the new and current customer.
In addition to saving customers money this summer, StorageMart offers these tips to make moving easier during the busiest time of year.
1. Plan Ahead – Reserve your storage and moving truck because these services are in limited supply.
2. Equip Yourself – Buy quality moving boxes and don't forget bubble wrap and packing paper for fragile items. Use moving blankets to protect large furniture.
3. Label Everything – Label boxes by room and contents so you can find exactly what you need and unpack easily.
4. Organize Your Move – Rent self storage before and after your move so that you can keep items you seldom use out of the way. Keeping a small storage unit after your move will help eliminate closet clutter and free your garage space.
About StorageMart
StorageMart is an international self storage company with over 130 locations across the United States and Canada. The company is one of the largest privately-owned self storage companies in the industry, offering residential and commercial self storage units for rent, as well as moving and packing supplies at each location.
StorageMart Gives is the charitable arms of the company, striving to identify partner organizations in local markets. Additionally, the StorageMart 'ScholarSmarts' program awards $10,000 annually to students pursuing higher education
"Monday Madness" Rules
Offer valid only at StorageMart located at 3500 SW 160th Ave, Miramar, FL. Discount available in-store only on Monday, June 11, 2012 for 5x5 storage units at $29.00 per month, for up to six months, at which time market rates will apply. No obligation to rent more than 1 month. Offer is valid while supplies last. "Monday Madness" offer can be combined with "99% Off First Month" special. "99% Off" discount is subject to availability.