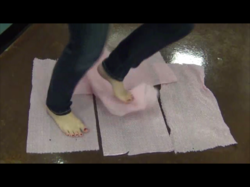 Columbia, MO (PRWEB) January 31, 2012
StorageMart celebrated Bubble Wrap Appreciation day by repurposing bubble wrap and reminding us all of the sheer joy in popping it. Bubble Wrap Appreciation Day is celebrated every year on the last Monday in January.
Commonly used for packing dishes, the self storage company pushed the limits to see if one of its best-selling packing materials could protect an egg from falling. The company found that an egg can fall more than 20 feet without cracking, when surrounded by bubble wrap. Further testing became impossible once the egg, formerly known as Eggbert, became the victim of a food fight.
While the fun had by all might seem childish, a new study shows there just might be something more contained within those factory-sealed puffs of air.
Sealed Air Corporation, makers of Bubble Wrap brand, conducted a poll and found that Americans who have popped Bubble Wrap in the past seven days are less stressed about their health than those with less recent popping fulfillment . The poll goes on to report that the recent popping of bubble wrap material lessens the stress of unexpected events such as missing a flight.
There is more than one way to pop a bubble. StorageMart demonstrates several of their favorite techniques on their StorageMart Media YouTube channel. Videos include "Favorite Ways to Pop", "Egg Drop" and "Egg Drop 2 - Eggbert's Revenge".
The self storage company suggests that bubble wrap can save a stressful moving day by protecting your china, and providing a little burst of happiness amidst the chaos.
About Bubble Wrap Materials
The term "Bubble Wrap" was coined in 1960 by engineers Marc Chavannes and Al Fielding, who intended the material to be used as textured wall paper. (Hear mothers everywhere say "Keep your hands off the wall, Johnny!") Bubble wrap tried its role in greenhouse insulation and eventually came to be known as the addictive packing material we all love.
About StorageMart
StorageMart is a full-service self storage company, offering moving and packing supplies as well as clean and affordable storage units. The company owns and operates over 130 self storage properties in the U.S. and Canada. StorageMart funds the "Storagemart ScholarSmarts" program, which annually awards $10,000 in educational scholarships. The company partners with many local charities and non-profit organizations including Shoeman Water Projects, local humane societies and more.
Source: Sealed Air Corporation http://www.sealedair.com/pdf/1201-BubblewrapDay.pdf
###