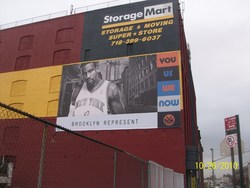 I'm glad to see they know where Brooklyn is...
Jefferson City, MO (PRWEB) November 3, 2010
The New York Knicks vs. Nets basketball turf war has gone way beyond half-court. In late October, the Knicks hung a billboard of Amar'e Stoudemire, Knicks forward, on the Brooklyn StorageMart building, near the construction site of the Nets' new arena.
The billboard hangs low to the street and Stoudemire's stance in front of the Manhattan Bridge sends a clear message, which is echoed by the words written below "Brooklyn Represent".
As reported by NYDailyNews.com, Nets CEO, Brett Yormark described the act as a "defensive maneuver" and commented, "I'm glad to see they know where Brooklyn is… Clearly, they know what's coming."
Nets owner, Mikhail Prokhorov commented that Stoudemire looked sad in the photo. Stoudemire gave his response live on ESPN's PTI on October 28th, 2010 as he smiled and said, "Not at all. Madison Square Garden is the ultimate basketball stage. That's where I belong… that's the home of the New York Knicks."
The Knicks declined to comment about the billboard.
The StorageMart self storage facility on which the billboard sits agrees that Madison Square Garden is the ultimate basketball stage. As the 'turf war' between the Knicks and Nets heat up, fans are looking forward to the November 30th showdown.
StorageMart is giving away 4 tickets to the Knicks vs. Nets game. Fans can enter the drawing on Twitter or Facebook by answering this question: "What's the name of that storage facility with the Knicks billboard?" To enter on Twitter, post an @StorageMart tweet that includes "#storagegifts" in the message. To enter on Facebook, leave a comment on the "StorageMart Gives" fan page Wall about the ticket giveaway.
The deadline to enter the drawing is November 18th, 2010. StorageMart will draw a winner by November 19th and reply via Facebook and Twitter to notify the recipient. If prize is not claimed by November 22nd, a new winner will be drawn. No purchase necessary to win. Employees and immediate family members of employees are not eligible to win, but are welcome to share this contest with friends.
About StorageMart:
StorageMart is a fully integrated, privately owned real estate operation company that owns and operates over 135 self storage properties in the United States and Canada. The company has a strong focus in identifying and supporting local community charities. StorageMart offers climate controlled self storage and standard self storage units.
In addition to self storage units, the company sells moving and storage supplies in every office. These supplies include items such as boxes, tape, bubble wrap, mattress covers and much more.
Contact:
Sarah Little, Director of Interactive Marketing
StorageMart
866-639-1715
# # #