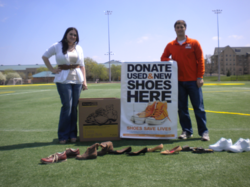 That is over 60,000 shoes! ~ Karl Johnson, Shoeman Water Projects
Columbia, MO (PRWEB) April 25, 2011
Shoeman Water Projects is setting out to break the Guinness World Record for The Longest Chain of Shoes. The conquest will take place in Columbia, MO at Mizzou's Stankowski Field on Saturday, May 7, 2011. Mizzou's mascot, Truman, will lead the cheer as 60,000 shoes are lined heel-to-toe for one triumphant victory.
Shoeman Water Projects is a not-for-profit program and turns donated shoes into fresh drinking water for people in the world who thirst, and to make shoes accessible in countries where affordable shoes are rare.
A church in Houston, Texas, presently holds the Guinness World Record for The Longest Chain of Shoes at 20,100. Thanks to hundreds of volunteers from public and private schools, churches, businesses and residents, Shoeman Water Projects is making certain that the record at Mizzou will be tough to beat.
"We're on target to break our goal of 30,000 pairs of shoes," coordinator Karl Johnson of Shoeman Water Projects said with conviction as he pondered the forthcoming display across the football field. "That is 60,000 shoes!" Johnson emphasized.
"To see that many shoes, end to end taking over Stankowski Field will be amazing, and a testimony to the caring, generous people of this area," Johnson said. "All are welcome to see it and be a part of the record-breaking celebration by donating shoes," he added.
George "The Shoeman" Hutchings, founder of Shoeman Water Projects said, "This is a wonderful undertaking by the people of Columbia, and on behalf of everyone in impoverished lands who will benefit from their shoe drive, I deeply thank the volunteers for their work and enthusiasm!"
"I will be there for the record-breaking moment, and invite everyone who has helped make this exciting day possible to join me on the field," Hutchings added.
"Anyone wanting to hold a shoe drive should contact me to receive posters, yard signs and other helpful materials and tips for a successful event," said Johnson. "All help is welcome." Johnson, whom Hutchings calls "the Shoe Dude," resides in Columbia, and is an alumnus of Missouri University.
Where To Donate Shoes:
StorageMart has 7 storage facilities in Columbia, MO where the public can drop off shoes. StorageMart business hours vary by location; but donations can be left during business hours ranging from 9:30 am to 6:00 pm Monday through Friday and 9:30 am to 2:00 pm on Saturday.
Students and residents may also bring their shoes to the Student Recreation Center on Mizzou campus on Friday, May 6 from 3:00 pm to 9:00 pm or on Saturday, May 7 from 8:00 am until Noon.
How To Donate Shoes:
Wearable pairs of shoes in all sizes are welcome. Shoes should have no holes or rips and matching pairs should be bundled or tied together.
About Shoeman Water Projects
Shoeman Water Projects is headquartered in Fenton, Missouri, near St. Louis. The organization facilitates local shoes drives across the United States and the world, accepting shoes wherever they are gathered. The shoes are then exported to countries where affordable shoes are rare. The proceeds from the sale of the shoes go toward purchasing water well drilling equipment and purification systems for people who thirst for clean water. The clean water and the wearing of shoes help prevent the spread of disease. In addition, reusing the unwanted shoes keeps them from going into landfills.
About StorageMart
StorageMart is a fully integrated, privately owned real estate operation company that owns and operates over 135 self storage properties in the United States and Canada. In addition to self storage units, the company sells moving and storage supplies in every office. These supplies include items such as boxes, tape, bubble wrap, mattress covers and much more.
StorageMart donates space to Shoeman Water Projects for local shoe drive events across the country, including the Guinness World Record event. The company offers storage space to groups, individuals and organizations running local shoe drives. If you are interested in organizing a shoe drive near your local StorageMart, contact Karl Johnson with Shoeman Water Projects.
# # #