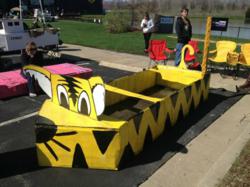 Columbia, MO (PRWEB) May 01, 2013
StorageMart (a full-service self storage company with more than 130 locations across the United States and Canada) and PhoneSmart (an off-site sales and reservation center answering self storage rental inquiries for more than 100 client companies and more than 800 individual properties in the United States, Canada and Mexico) are proud to announce their recent joint effort supporting the Food Bank for Northeast and Central Missouri.
For the second straight year, the companies were participants in the Food Bank's "Float Your Boat for the Food Bank" Cardboard Boat Regatta. StorageMart acted as event sponsor while PhoneSmart employees participated in the regatta by constructing a boat made of nothing more than cardboard, duct tape, caulk and paint. They then sailed their boat the morning of April 20. While they didn't win the overall race, the PhoneSmart boat, whose design was inspired by University of Missouri mascot Truman the Tiger, did take first place in its individual heat.
PhoneSmart was one of 52 entrants in the regatta. All told the event raised nearly $17,000 for the Food Bank.
This is just the latest effort in the StorageMart cause marketing campaign. Past efforts have included their "Draw My Favorite Teacher" campaign, benefiting public schools in Oakland, CA and Brooklyn, NY, fundraising efforts for the Muscular Dystrophy Association of Columbia, MO and ongoing relationships with the Shoeman Water Project and Kure-It Cancer Research.