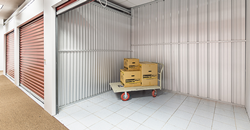 This acquisition represents a rare opportunity for us to acquire four of our direct competitors. Alex Burnam
KANSAS CITY, Mo. (PRWEB) February 21, 2019
StorageMart, of Columbia, MO, added four locations in Blue Springs, Independence, and Lee's Summit with the acquisition of a local competitor's portfolio. The additional locations expand StorageMart's own portfolio by more than 1,300 storage units and nearly 200 parking units.
Improvements planned in the first 90 days include upgraded perimeter fencing and gates with keypad access. The offices will be renovated and LED lighting installed throughout the facility. The locations will also receive new paint and paving repairs. With the transition, customers will gain access to StorageMart's 24/7 customer service and the tenant portal, allowing them to easily manage their account online.
"This acquisition represents a rare opportunity for us to acquire four of our direct competitors," said Alex Burnam, Real Estate Acquisitions and Development at StorageMart. "These additional facilities will serve to satisfy the demand for self storage in the Jackson County market, allowing us to continue providing best-in-class storage solutions for our customers throughout the area."
StorageMart started with a single store in Columbia, MO and has grown to be the largest privately-owned, family operated storage company in the world. StorageMart is led by the Burnam family, who have been in the storage industry for three generations. Dedicated to providing easy, clean, and friendly service to each and every customer, StorageMart is also committed to giving back to the many communities it calls home through their Store It Forward program. In 2018, the company donated more than $281,000 to charities, in addition to donating over $520,000 in free rent to charities throughout the US, UK and Canada. Find out more at http://www.storage-mart.com.