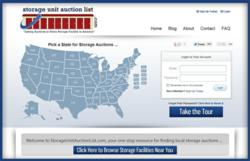 We have always strived to provide our subscribers with the most accurate and complete storage auction data available on the web.
Asheville, NC (PRWEB) April 04, 2012
Due to the thousands of subscribers relying on the website as a foundation to their storage auctions resale careers, and many more signing up daily, the original design needed modifying on several different fronts. Based on transparent need and customer feedback, StorageUnitAuctionList.com has completed its rigorous testing phase and will soon launch its newest incarnation: StorageUnitAuctionList.com 2.0 ("SUAL 2.0"). The new site is an improvement in all areas: aesthetics, functionality, interactivity, and never before seen features that could quite possibly change the way users conduct their storage auction hunting business.
The refined website launches out of ASHEVILLE, North Carolina on Tuesday, April 3nd, 2012. Current subscribers will be able to log in just as they would before and browse the changes in their entirety. Future subscribers can get a sample run of the new features minus the list.
The first thing users will notice is SUAL 2.0's sleeker, more navigable overall appearance. All major buttons and their respective texts have been enlarged and recolored for quicker, less eye-straining navigation. The homepage is a good, working example of how the site has consolidated its features and added both size and space simultaneously. All previous sections of the site are still present: the linked map of the country, the auction going handbook, the testimonials section, and all of the social outreach applications, but with much more breathing room and obvious button links to and from the site's other pages. For example, the main page now allows users to access the tri-weekly blog by title instead of scrolling tediously through a separate page until they can find a suitable subject. Current theme colors of red and yellow have been replaced by calmer blues, greys, and whites. Users will also note that the site browses much faster. The database has been reprogrammed specifically for quicker loading times and new technology has been developed to accommodate users that stay logged in and use the site constantly.
Along with a visual overhaul comes brand new subscriber profile functionalities that seek to revolutionize the storage unit auctions finding process. An individual's profile now displays a the map, a personalized calendar, and a brand new search refining timeline slide, a first on the internet, all in conjunction with the classic "list" that users are accustomed to. Based on one's subscribed auction states, a user can slide between "This Week," "Next Week," "Month" (the current month), and "All." Doing so will change the map and the list to display a user's auctions within that respective time period. Hovering over the location markers provides quick tag information on that auction: the name of the facility, the address, and contact information. Or, they can simply click on a day within the calendar and refine the map to display auctions just for that day. This new trifecta of a map, timeline slider, and calendar is the visual version of the classic list, which is still located on the page if users prefer to scroll through manually.
"We are very excited about the new tools and features on the site, we started from day one focusing on the auction goer, therefore we are constantly improving StorageUnitAuctionList.com to something that every auction goer needs." said Maddison Lake, Founder and President of StorageUnitAuctionList.com. "We have always strived to provide our subscribers with the most accurate and complete storage auction data available on the web. The increased functionality, reformed auction alert system and sleek new look of the website will make it even easier for our subscribers to find local storage auctions."
With SUAL 2.0 comes a directory with over 49,000 storage facilities, making our directory the largest in the world. Each facility in the Storage Unit Auction List database has its own page, and users can set an "Alert" to be notified when local facilities schedule auctions. While on their main account page, users can click a large button titled "Click Here to Browse Storage Facilities Near You," choose a state, then be taken to a massive directory of all facilities in their home state, grouped by town. This method of systematically tracking down only the most local facilities is a much more realistic approach than using a data list in singularity.
Once on the facility's custom page, website subscribers again receive all contact and locational information they wish to know. For those planning an impromptu auction outing, each facility page provides a large display weather chart that updates itself every two hours. Here, an alert can also be sent back to "Your Auction Alerts" column on the Account Page, where a user finalizes the alert by setting it to Text (SMS) or E-mail. For the average user, this becomes a method of perpetually receiving information only pertinent to their local, target auctions without having to log in on a daily basis. Facility and upcoming auctions alerts can also simply be set directly from the list itself.
Small but important additions have also been programmed in to make navigation more enjoyable. For example, automated confirmation messages frequently appear in the top, right corner when you have successfully added facility alerts, changed auction states on your master list, or when you have chosen to receive alerts via text (SMS) or email. An interactive edge has certainly been added to SUAL.com 2.0.
StorageUnitAuctionList.com was founded by serial entrepreneur Maddison Lake in Asheville, North Carolina in the winter of 2010. The website draws from more than fifty thousand self-storage locations on a daily basis to compile the most accurate and updated auction listing data possible for bidders. The entries include each auction's state, city, facility name and address, and approximately how many units are being auctioned off in order to afford subscribers surefire itineraries. Their large, in house staff of over 25 full time employees is comprised of call center representatives, customer support, web engineers, data verifiers, researchers and facility liasons. all working around the clock to connect their clientele with experts and expert information on all things self storage auction related.
The website's primary office is located in Asheville, North Carolina at 1262 Hendersonville Road. A representative can be reached at 1-800-353-8417, and all inquiries concerning our new site, policies, future plans, or subscriptions can be mailed to info(at)StorageUnitAuctionList(dot)com.