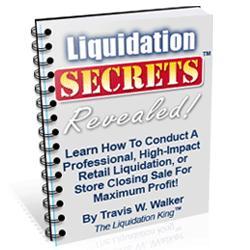 The Liquidation Secrets™ retail marketing system was extremely effective and profitable for our Going out of Business Sale. We sold everything to the bare walls, even the fixtures, and got 110% return
North Port, FL (PRWEB) September 26, 2007
For storefront retailers seeking an immediate spike in cash flow and sales volume, help is provided in the form of professional retail consulting services for Promotions, Seasonal Liquidations, Store Closing Sales and Going Out of Business Sales.
Professional retail consulting firm LSR Consulting Services, Inc. recently announced the formal launch of a new and exciting twist to their retail marketing system called Liquidation Secrets™ for storefront Promotions, Seasonal Liquidations and Store Closing services that has proven to skyrocket sales volume for clients up to 8 times more than normal in a few short weeks. Powerful and effective Internet marketing strategies in addition to already proven successful offline, traditional media strategies to drive high traffic volume into their clients' store and to their Sale; something no other retail consulting firm or retailing experts offer. "The Liquidation Secrets™ retail marketing system was extremely effective and profitable for our Going out of Business Sale. We sold everything to the bare walls, even the fixtures, and got 110% return," said one retailer.
With only a handful of professionals available that provide Store Closing and Promotional Sale services, LSR Consulting differentiated itself from others in the industry by utilizing advanced Internet marketing strategies since the company's formal inception in 2003 to promote business for themselves and for their clients, but only after years of testing in the field is the company now ready to formally unveil these advanced systems. President and Founder of LSR Consulting Services, Travis W. Walker, stated that his unique Internet-based retail marketing strategies, in conjunction with the company's traditional retail marketing strategies for Promotional and Store Closing Sales, have increased traffic flow for his clients by as much as 30% more than when they utilized traditional media strategies alone. "Traffic equals sales equals profits, and we provide our clients with all three," Walker said.
Retailers can also see the details of how Walker and his team of retail specialists conduct these sales events by purchasing his book called Liquidation Secrets™ Revealed, which is part of a professional retail promotion kit. By purchasing one of the packages, a retailer will receive everything they need to successfully implement and conduct a wildly profitable Sales event, like a Promotion, Seasonal Liquidation, Store Closing, or Going Out of Business Sale, on their own with complete phone support. On site consulting with a retail specialist is also available. Walker said, "LSR Consulting Services offers professional retail consulting as well as packaged solutions for professional Sales events to take your retail sales volume to the next level and beyond. It's smart retail™."
The additional traffic that is generated for one of their inventory liquidations, promotions, or Store Closing Sales, particularly in the early stages of the Sale, can mean thousands of dollars in additional profit for the client. These profits would not have been realized without the implementation of the additional and alternative marketing strategies driving more new customers into the store during the opening week of the Sale when price reductions are at a minimum. By driving up to 30% more customers into a store during the first week it creates much broader visibility in the marketplace for the store, thus an increase in overall sales and profits for the merchant with advertising expenses being held to minimum levels. "We specialize in an area of retail that most store owners do not, and that is the implementation of a high impact sales event that can produce as much as 5-8 times the normal sales volume for the retailer in just a few short weeks," Walker said.
When asked why he felt so strongly about his company's strategies for conducting a cash flow event like a Store Closing Sale, Walker said, "I've been conducting these types of Sales for a long time, and I've worked personally with small business retailers of all kinds. Once storefront retailers get to know our marketing systems and how they can produce an exorbitant amount of profit by utilizing them, it's pretty much a closed case."
Because LSR Consulting Services, Inc. has worked with so many different types of retail businesses, the company is able to provide services to assist any small to mid-size storefront retailer with marketing, promotion, seasonal liquidation or store closing sales for quick and effective cash flow generation and inventory liquidation. LSR Consulting Services also offers several different Sale packages and consulting options designed to accommodate all budgets and circumstances. Walker finalized, "If you want retail experts to help you conduct a professional store closing or promotional Sale to produce immediate cash flow, then LSR Consulting Services is the most profitable solution."
Founded in 2003 by retail expert and marketing strategist Travis W. Walker, LSR Consulting Services has conducted a variety of retail Promotions, Seasonal Liquidations, Store Closings and Going Out of Business Sales for storefront retailers in many different sectors including Hardware/Variety, Furniture, Clothing, Party, Art, Lumber, Books, Toys, Shoes, Billiards, Crafts, Tools, Sporting Goods and others.
For more information contact LSR Consulting Services toll free at (877) SALES PRO or (877) 725-3777. You may also visit their website for a free, full color brochure.
On Site Retail Sales Events
Off Site, Assisted Retail Sales Events
###