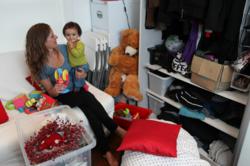 Described by some as the 'eBay of storage', registered users of Storemates.co.uk can list or search for storage for free.
(PRWEB UK) 5 October 2011
Storemates.co.uk helps users safely find people locally who want to earn some extra money by letting out part of their house as storage space. Users save money through storing their items with other members – who in turn, earn money through renting out part of their loft, garage, spare room, shed or even a cupboard.
In an economic downturn where even those who have larger properties are feeling the squeeze, earning an extra £80 a month through renting out half an attic can be a welcome help. This cost is still less than half the amount customers could expect to pay if they went to the self-storage giants like Safe Store, Shurgard or Big Yellow. Those with additional space to offer totalling more than 100 square feet can expect to earn over £200 a month (or £2400 a year) a more sizeable subsidy then installing solar panels but without the outlay.
Described by some as the 'eBay of storage', registered users of Storemates.co.uk can list or search for storage for free. No percentage of the rental income is taken, instead Storemates.co.uk asks for a small one-off arrangement fee, equivalent to the first two weeks of rent. The storage provider only pays this once they start generating income so they're never out of pocket.
This new storage service is part of a growing movement referred to as 'Collaborative Consumption', where community members pool their resources to share and loan to each other peer-to-peer, cutting out the corporate middlemen through collaborating for mutual benefit.
Storemates co founder and former environmental campaigner, Ben Rogers claims:
"Many people, especially those who live in flats have items which they only need occasionally, cluttering up their living space. With self-storage units being so expensive, Storemates.co.uk offers a simple solution that's cheap, convenient and completely carbon neutral".
Through Storemates.co.uk single mum Anna Davies from South London stores her winter clothes, old baby toys and Christmas decorations at Mr. and Mrs. Shah's family home; both live on the same street. Anna is delighted with the arrangement:
"It was impossible for my daughter Maya and I to live in our small flat, we were always tripping over our extra stuff. Now I have it all safely stored away in Mr. Shah's loft for the summer; it feels like we have an extra room back for Maya to use as a play room, plus it's so nice to meet such wonderful neighbours"
Mr. Shah is also pleased
"After tidying up our loft I realised that I could rent out half my space through Storemates. I'm pleased that I can help out a neighbour plus earn enough extra money to pay for a holiday every year. Great if you are a retired couple like us!"
Ben Rogers acknowledges that not all people would feel comfortable at first storing their belongings at a stranger's house due to security concerns. But Storemates have built a range of safety measures into its service to create trust and confidence between 'storers' and 'storage providers'. He adds:
"Storemates' users can review and read about each other through the secure site. They have to follow strict safety guidelines and a code of conduct, plus we provide a detailed legal contract, similar to a tenancy agreement for both parties to sign once they are ready to enter into a storage arrangement."
There are other benefits of the service too, as Shaff Prabatani, community worker and Storemates partner explains:
"We help people become 'Store Mates' by building a community of like-minded people who want to help each other out. Uniquely, users can also exchange storage space for a valued regular service in return like gardening, DIY, dog walking or even language lessons. The beauty of it is that it brings people together from different backgrounds, cultures, ages and income brackets."
Martin, for example, who describes himself as a 'sporty but typically poor student' lives in a small student bedsit. He stores his bike and sports equipment with Eva, an elderly neighbour who lives nearby and has a garage which she doesn't use. In return, Martin tends to her garden and takes out her rubbish once a week which she can no longer do for herself. No money changes hands, but both benefit from the arrangement.
Eva states:
"Since my husband passed away I have no use for my garage so I'm happy that it can be used by someone who needs it. I'm grateful that I get so much help from Martin in return and of course, having the regular company is really enjoyable."
With moving home becoming more expensive, ethical companies like Storemates now offer an alternative to the overly-commercial self- storage companies.
Editor's notes
Storemates launch information: The http://www.Storemates.co.uk website will be live and fully functional from the 6 October 2011. It will be free to list storage space for rent, and free to search for storage in your local community.
All storage rental quotes are 'Storemates suggested prices' which are 50% off the standard weekly averaged prices of the top five commercial self storage companies in London: 'Big Yellow', 'Shurguard', 'Safestore', 'Access', 'Lok'n store' (not including introductory offers). Full list of savings and earnings compared to commercial storage can be found here http://www.storemates.co.uk/index.php?option=com_content&view=article&id=68&Itemid=65
Storemates' launch features a competition prize from Travelzoo (http://www.travelzoo.co.uk) Travelzoo is the world's most trusted publisher of travel, entertainment and local deals and has 24 million global subscribers. Registered Storemates users will have the chance to win a £50 voucher to spend on a Travelzoo Local Deal™.
Photos and film available of 'Anna' moving her belongings into the 'Mr. & Mrs. Shah's' loft. Preview photos and film here: http://www.youtube.com/user/storemates
Photos and interviews with founders available. The story and inspiration behind Storemates can be found here: http://www.storemates.co.uk/index.php?option=com_k2&view=itemlist&layout=user&id=62&task=user&Itemid=78
###