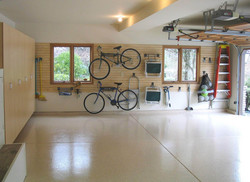 have not been able to park a car in their garage since they can remember
Milwaukee, WI (PRWEB) September 23, 2008
Wall storage and organization manufacturer storeWALL, LLC has launched the "My car goes where? In the garage?!" contest, which began on September 15, 2008.
A $500 shopping spree - good for use on the storeWALL web site - is the grand prize awaiting the winner. Online visitors to the storeWALL web site are eligible to win the grand prize by filling out a simple form. No purchase is necessary to participate.
Designed to highlight the need for better organization in the garage, the contest is seeking homeowners who "have not been able to park a car in their garage since they can remember," according to Rick Chamberlain, director of sales and marketing for storeWALL. "The contest is designed to be easy and fun, something not usually associated with cleaning and organizing your garage."
"I hear it from our people all the time, 'My kids' toys have taken over our garage!'" Chamberlain said. "The garage shouldn't feel like an obstacle course, which is often the case for many families. It's not just a storage issue, it's a safety issue a well. And both issues can be solved easily with storeWALL."
The contest will serve as an opportunity for participants to win a gift certificate from storeWALL, as well as glean ideas from the professionals at the storeWALL Idea Center.
"Our new Web site serves as not only an online store, but also as a resource center for consumers," said Chamberlain. "From starter kits to custom garages, our Idea Center is a must-stop for anyone feeling overwhelmed by the current state of their garage. And we're always adding new photos, videos and other content to help our customers design a solution that works for them."
Consumers are invited to enter at the storeWALL Contest Page. The deadline for entries is October 31, 2008, with winners notified by November 5th, via e-mail. Visit the storeWALL web site for a complete list of contest details.
About storeWALL:
StoreWALL, LLC is a manufacturer of patented, award-winning wall storage and organization products for home, garage and commercial applications. For more information, visit the storeWALL Web Site or call (866) 889-2502.
###