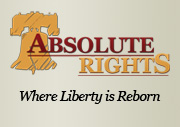 Food independence is a reachable goal, and "Seeds for Life" will show people how growing and storing survival food can save their lives.
Austin, TX (PRWEB) June 20, 2012
Storing survival food is a disaster necessity to protect people from the dangers of a crisis situation, said the most recent article from AbsoluteRights.com. But instead of adopting the common consumer mindset, everyone has the power to save money and provide their own food for themselves and their families. The article said it's all about finding and growing seeds that are easy, efficient, and geographically-matched. That way, Americans can grow their own food supply and become independent in their nutritious needs.
Absolute Rights has published a Special Report to help people learn all there is to know about turning survival seeds into reliable food supplies. "Seeds for Life: Preservation, Extraction, Storage, and Trade of Seeds" is the expert system to growing personal food with a survival garden, said the article.
The Special Report relies on the PEST acronym, explaining the preservation, extraction, storage, and trade of seeds. It uses that four-pronged technique to teach people the right way to find, plant, and successfully grow organic heirloom seeds that will produce abundant food supplies. "Seeds for Life" gives the basic seeds that make up the staples of nutrition, and highlights the specific seeds that do best in specific locations.
Whether it's done to cut grocery bills or to stockpile survival food packages, the online article said a survival garden is a great decision. Just a ten foot by ten foot lot can yield an amazing amount of food season after season.
Above all, the article said "Seeds for Life" gives its readers the ability to acquire disaster preparedness food easily and inexpensively. The Special Report doesn't stop at food, either. It explains the value behind growing medicinal plants. Though considered "off-the-grid," these plants promise remedies and treatments when hospital or pharmacy supplies run dry. Some of the information is sensitive, but the article said Absolute Rights doesn't let the dangers of leaked information stop them from sharing the most useful advice.
Absolute Rights informs patriotic Americans on their given rights, plus helps protect those rights from government or disaster intrusion. Most importantly, it prides itself on alerting people when their rights are being threatened, creating an active and informed community. For more information, be sure to visit AbsoluteRights.com.
To make it through a disaster situation, the article said people have to become self-sustaining and provide their own means of living. Food independence is a reachable goal, and "Seeds for Life" will show people how growing and storing survival food can save their lives, said the article.