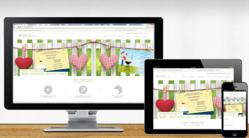 Fort Lauderdale, Florida (PRWEB) June 18, 2013
Storkie Express, Inc. has launched the 5th-generation of its website, featuring responsive design technology, HTML5 and CSS3 to transform the online shopping experience for custom-printed invitations and cards.
Storkie was one of the first invitation companies online, introducing Storkie.com 1.0 in 1999. Storkie.com 5.0 represents the company's continued commitment to innovation and industry leadership. The all-new shopping experience makes it easier and even more fun to browse and create beautiful invitations, cards and announcements on any device and screen resolution, whether shopping on a PC, tablet or mobile phone. With the new design and features, Storkie 5.0 is the most advanced invitation shop online.
David Gudai, CMO of Storkie, said, "Design defines so much of the customer experience, and our intent for this next generation website was to create an aesthetic marked by simplicity, clarity and balance. Leveraging the latest technologies with new approaches to depth and animation, we were able to create an immersive, fluid shopping platform that represents the future of the web experience. Parallax elements and user personalization facilitate entirely new ways to explore and interact with the Storkie website."
In addition to an all-new user interface, Storkie 5.0 is packed with new features, including: integrated photo upload from Facebook, Instagram and Flickr; a significant revamp of the product catalog page to include larger catalog images and dynamic catalog personalization; and a tailored mobile browsing experience.
For more information, visit Storkie at http://www.storkie.com.
About Storkie Express, Inc.
Storkie Express is an online-based invitation company providing customers with quality, affordable custom-printed invitations, announcements and cards since 1990. Storkie has been an industry innovation leader unveiling exclusive custom-design technology, and transforming the customer experience for stationery shopping. At Storkie.com, customers can easily design and order unique personalized invitations at the best prices and fastest turnaround time offered in the industry.