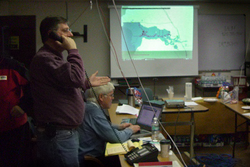 I was able to do this from my home office and in my mobile unit while coordinating with the county emergency operations center.
Seattle, WA (PRWEB) January 29, 2009
Depiction Inc., the new "what-if?" mapping software company, today released an updated version of Depiction™ for winter storm preparedness that automatically integrates National Weather Service 24-hour forecasts into the active Depiction maps of any local government, planning agency or concerned citizen. This latest update of Depiction also includes new interactive map elements such as water over roadway, downed power line, power outage report, and landslide to help users create realistic scenarios in their communities.
"During the recent Washington State floods, I used Depiction to map out road closures based on real-time reports and to calculate alternative routes to get supplies and search and rescue units for rural towns in Pierce County and to track flooding along the Snohomish River," notes emergency management volunteer David Friedman. "I was able to do this from my home office and in my mobile unit while coordinating with the county emergency operations center."
Downed power lines, flooded roads, landslides--communities across the country this past month faced difficult questions about how to evacuate towns, get residents to shelters, and check on vulnerable neighbors. Depiction's fast and flexible mapping features helped Red Cross volunteers and emergency operation centers improve their situational awareness during last week's floods.
"Using Depiction mapping software, we provided the county Department of Emergency Management (DEM) a visual depiction of the locations of 341 homes affected by flooding," said C. Morrison, American Red Cross Snohomish County Chapter. "The DEM was anxious to forward the data to FEMA and was thoroughly impressed that we could provide them damage assessment information so quickly and in such an informing way. As we get into areas where roads are reopening, we'll include more homes in our report and the depiction."
"I want to thank you for the great work," noted J. Pennington, Snohomish County Director of Emergency Management, "I see a big role for your Depiction product -- and all for $89!"
With Depiction, concerned individuals, Red Cross volunteers, utility company workers and others can:

Customize a map with shelter locations, at-risk neighbors, evacuation routes, blocked roads or possible flood levels and watch the elements of the map interact with different assumptions.
Receive live field reports that update the depiction on-screen from anyone in the area who has access to standard email services
Create custom interactions and map elements (a unique shelter building, for example) and share them with others.
Depiction users can explore scenarios online or offline, during events when the Web might not be available. When online, creating a Depiction is as easy as typing in the name of a community. Depiction automatically finds relevant information on the Web specific to that region and downloads it: satellite images, road networks, street maps -- and now official NOAA National Weather Service 24-hour forecasts for precipitation, temperature and winds.
Easy-to-use and affordable -- at only $89--Depiction creates visual "stories" about a community as a living, interactive map, as in these sample what-if scenarios. Depiction is everyday software purchased and downloaded over the Web -- it runs on Microsoft Windows XP and Microsoft Vista laptop and desktop computers. Current users can update their copy of Depiction to this latest version for free.
Prepare for the next winter storm by exploring neighborhood scenarios integrated with the federal government's official weather forecasts. Visit http://www.depiction.com/trial today to download Depiction's free two-week trial.
About Depiction, Inc.:
Depiction was developed by a privately-funded team in the Seattle, WA area-- including former Microsoft staff, computer science PhDs from the University of Washington, a retired US Navy captain and base commander, active-duty firefighters, and a world-class team of software developers--all of whom are inspired by a deep belief that technology should be meaningful and accessible to everyday people. Designed to be a software platform, Depiction can be extended by its users, computer programmers and industry consultants who can create, share and sell their own "what-if" add-ons.
###