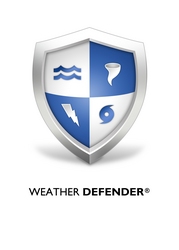 Our mission is to save lives, plain and simple
Omaha, NE (PRWEB) November 9, 2009
Residents of Tornado Alley in the Southeast and Midwest know that every second counts when it comes to protecting their family or business in the event of severe weather and violent storms. SWIFT Weather, a decade old U.S.-based provider of storm-tracking software, released today Weather Defender 1.1 - the new software designed to save lives and protect families and businesses by providing advance notice of storms and impending severe weather. The new version of the leading storm-tracking software has more than 20 new features allowing users to accurately forecast weather and receive customized alerts of local or approaching severe weather on their computer, by e-mail, as an audible alarm, or as SMS text to any mobile device. Both residential and commercial licenses are available.
Weather Defender 1.1's new features and enhancements include:

New activity-specific weather maps, including: summer and winter weather, aviation, marine, forestry, amateur radio, and high-contrast maps for the vision-impaired.
Dozens of new alert conditions, including: tornadoes, lightning, large hail, high winds, heavy precipitation, and more.
Drawing tool enhancements including the ability to add points by latitude/longitude or street address.
Increased alert range on Lightning Strikes (up to 50 miles).
Increased warning time on Severe Storm tracks (up to 3 hours).
Better support for GIS integration with industry-leading formats like ArcView Shapefile and Google Earth (KML).
"Our mission is to save lives, plain and simple," said Rory Groves, CEO of SWIFT Weather. "Our new Weather Defender 1.1 provides families and businesses with the most advanced, easy-to-use storm-tracking software available anywhere. With several new features in addition to our standard features such as always-on threat monitoring, location specific 'safe-zones', social media collaboration tool, animated history, GPS integration, and GIS import - I feel confident in saying this is one of the most important software applications an individual will ever purchase."
The new Weather Defender 1.1 is compatible with Windows 2000/XP/Vista/7 operating systems. The Residential Edition is $149.95 after $100 new customer discount and $29.95 per month for weather data. The Commercial Edition is $399.95 and $49.95 per month.
For more information, and to try Weather Defender free for 7 days, visit http://www.weatherdefender.com/freetrial
MEDIA CONTACT:
Ria Romano
RPR Public Relations, Inc.
Tel. 786-290-6413
###