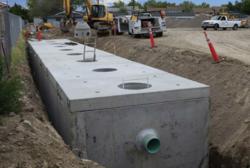 StormVault by Jensen Precast is designed to capture first flush pollutants.
Sparks, NV (PRWEB) November 15, 2011
The Stormwater Management Rules of the New Jersey Administrative Code (N.J.A.C. 7:8) allow the use of manufactured treatment devices (MTDs) for compliance with the design and performance standards provided that the pollutant removal rates have been verified by New Jersey Corporation for Advanced Technology (NJCAT) and certified by the New Jersey Department of Environmental Protection (NJDEP). StormVault has received the MTD Field Test Certification for Total Suspended Solids (TSS) removal rate of 80%.
"We are pleased to receive the MTD Field Test Certification from the New Jersey DEP," commented Ron Anderson, P.E., Stormwater Treatment Products Division Manager for Jensen Precast. "New Jersey is one of five states participating in the TARP (Technology Acceptance Reciprocity Partnership) Protocol for Stormwater Best Management Practice Demonstrations. Other states endorsing this protocol are California, Massachusetts, Maryland, Pennsylvania, and Virginia."
The NJCAT first verified pollutant removal rates for StormVault in 2008. Final Certification by NJDEP was issued on November 20, 2008. However, new field and laboratory protocols went into effect on July 15, 2011 which required that area scaling tables for hydrodynamic devices be submitted by August 1, 2011. Jensen Precast provided the necessary test results and the Final Certification for StormVault was reclassified as a Field Test Certification by NJDEP in September.
Jensen Precast's interest in storm water capture and treatment began in 1998 when the company made a commitment to design the ultimate storm water treatment system. A research and development team was assembled comprised of some of the country's leading experts in the field storm water mitigation. The resulting product was named StormVault.
The Stormvault R&D team consisted of Jonathan E. Jones, P.E., Andrew Earles, Ph. D., Mark Van Nostrand, P.E., and John O'Brien from Wright Water Engineers Inc.; Dr. Steve Abt, P.E., Director of Hydraulics Laboratory, Colorado State University, Department of Civil Engineering; Shaw L. Yu, Ph. D., and Elizabeth Fassman, M.S., University of Virginia, Department of Civil Engineering; and Ben R. Urbonas, P.E., Outside Technical Reviewer & Advisor for Urban Watersheds.
Jensen Precast, founded by Don Jensen in 1968, is one of the largest independently owned precast concrete manufacturing companies in the United States. With corporate headquarters in Sparks, NV, Jensen Precast has 12 production facilities throughout the Southwest and Hawaii. Jensen Precast designs and manufactures standard and custom precast concrete products to meet small to large-scale infrastructure demands. Jensen Precast products are made in the USA and are used in highway construction, retaining walls, electric and gas utilities, telecommunications, stormwater capture and treatment, rainwater harvesting, on-site wastewater, sewage applications, above ground fuel storage, and more.
###