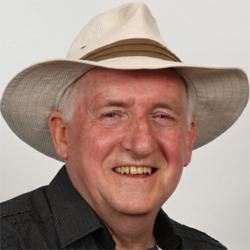 Tony Myres won $3,000 for his essay "Searching for Father--A Tale of Repentance, Redemption and Resurrection"
Northampton, MA (PRWEB) September 15, 2012
Tom Howard Books is pleased to announce the results from its 20th annual Tom Howard/John H. Reid Short Story Contest. Tony Myres of Ottawa, Canada won first prize and $3,000 for his essay "Searching for Father--A Tale of Repentance, Redemption and Resurrection". Over 1,000 entries were received from around the world.
This true-life story begins with the author's birth in England during World War II, the son of a British teenage mother and an American G.I. who vanished from their lives shortly afterward. For nearly 50 years, he suppresses his feelings of abandonment and confusion, till his own son's persistent questions about his missing grandfather start the family down the road to a miraculous reunion.
Second prize of $1,000 was awarded to B.F. McCune of Denver, CO for her humorous story "The Neighborhood Pig". When the shabbiest family on the block compounds their offenses by keeping livestock, the narrator finds herself caught in the middle between her friends' petty snobbery and the pig-owners' uncouth ways.
Tom Alberti of Des Plaines, IL won third prize and $400 for "Stranger in the Snow". In this story with a twist, a snowplow driver's good deed brings him an unexpected benefit as well.
In a first for the Tom Howard contest, Rita Myres of Ontario, the wife of this year's first-prize winner, won fourth prize and $250 for "Letter to Sylvia", a poignant sharing of the birth of her stillborn daughter, written in the form of a letter to her child.
Most Highly Commended Awards of $150 each were given to Erin Byrne (two awards), Luke Melia, Rajdeep Paulus, Kelcey Stivers, and Randy Zumalt. Their winning stories are published online at WinningWriters.com.
The Tom Howard/John H. Reid Short Story Contest accepts short stories, essays and other short works of prose. All styles and themes are welcome. Both published and unpublished work are accepted. The 21st contest is open now and has a postmark deadline of April 30, 2013. Entries are accepted online and by mail. For guidelines, please visit WinningWriters.com/tomstory.
About the Contest Sponsor
Contest sponsor and final judge John Howard Reid is a former journalist and magazine editor who has published several novels and collections of poetry, a guide to winning literary contests and fifteen books of film criticism and movie history. He lives in Wyong, Australia. Mr. Reid is assisted in the judging by Dee C. Konrad. A leading educator and published author, Mrs. Konrad was Associate Professor in the English faculty of Barat College of DePaul University, and served as Dean of Liberal Arts and Sciences for the year 2000-2001.
About Winning Writers, Inc.
Winning Writers is today's leading source for literary contest information. We help promote and administrate the Tom Howard/John H. Reid Short Story Contest and sponsor two contests of our own: the Wergle Flomp Humor Poetry Contest and the Sports Fiction & Essay Contest. We are proud to have been selected as one of the "101 Best Websites for Writers" by Writer's Digest for eight years running (2005-2012). Our online database, Poetry Contest Insider, ranks and profiles over 1,250 active poetry and prose contests. Our free email newsletter offers news about free literary contests and quality resources for writers. Learn more at http://www.winningwriters.com/
###