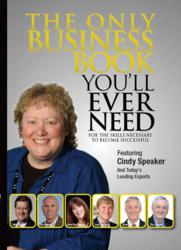 Efforts and courage are not enough without purpose and direction. John F. Kennedy
West Chester, PA (PRWEB) January 31, 2012
Cindy Speaker, of Speaker Media and Marketing, is one of a select group of business experts and entrepreneurs to collaborate and co-write the business and marketing book titled "The Only Business Book You'll Ever Need." Nick Nanton, Esq. along with business partner, JW Dicks, Esq., signed a publishing deal with each of these authors to contribute their expertise to the book, which will be released under their CelebrityPress™ imprint.
The book is scheduled to be released on March 8, 2012, but just this week Ms. Speaker was chosen by the editor as the winner of one of the Editor's Choice Awards in recognition of her chapter on "Story Driven Brand Marketing." The book includes chapters by 41 business and thought leaders, only 3 of which were chosen for an Editor's Choice Award.
Cindy Speaker is a filmmaker, story teller and marketing consultant. She is passionate about helping brands find their story and then telling it through the medium of film. According to Speaker, her method of story-driven brand marketing is helping brands transition purchase decisions from the realm of rational thought and price shopping into the realm of the emotional, where they can tap into the passions, hopes and dreams of individuals. "Stories touch the heart and that's where magic happens" says Speaker.
As CEO of Speaker Media and Marketing, Cindy has been a professional marketing coach and consultant to some of the top law firms in the US. She has focused primarily on marketing strategies aimed at growing relationships, leveraging technology and building systems. Her ultimate goal for her clients is to help position them as thought leaders and experts in their marketing and to generate a consistent stream of referrals.
###