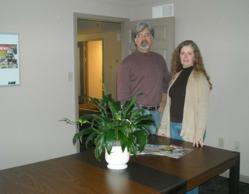 I put in a lot of hours at this table over the past 40 years.... That's when we'd get talking about the old days.
Harrisburg, PA (PRWEB) November 22, 2012
The table isn't much to look at; just an early-1970s particle-board wonder with dark wood-grain veneer. But for the publishers of AMERICA IN WWII magazine, it's a treasure. This table is where their World War II magazine was inspired. And now it stands in the conference room of their office—at the center of their company's operations.
"I put in a lot of hours at this table over the past 40 years," says Jim Kushlan, thumping the tabletop. He founded AMERICA IN WWII magazine in 2005 with his wife, Heidi. "We'd be over at Mom and Dad's for Thanksgiving, Christmas, Easter, birthdays—you name it. A lot of times, we'd have aunts and uncles there, too. That's when we'd get talking about the old days."
Tableside chats often turned to the Great Depression—when Kushlan's parents, aunts, and uncles were children—and World War II, in which Kushlan's father and uncles served overseas. Kushlan's mother was a teen on the WWII home front.
"Those stories really opened windows into the past for us," says Heidi Kushlan, who joined Jim at the table 21 years ago. "You could really get a sense of what it was like to be alive back then." Her parents were children on the WWII home front.
For Jim and Heidi, who worked in niche publishing, the stories sparked a magazine idea. AMERICA IN WWII would recount the American experience in World War II, letting readers feel what it was like to be there. Each issue would contain a mix of military and WWII home front content. And every issue would feature first-person stories from veterans and civilians.
That was seven years and 47 issues ago. The table moved to AMERICA IN WWII's office this autumn, after Kushlan's mother died. "We had just gotten an office after working from home for years, but Mom didn't live to see it," Kushlan says. "Dad was gone, too. So, we decided their dining room table should become our conference table."
"It's a symbol of the importance of listening to one another," Says Heidi, who helped carry the heavy table up two flights of stairs to the office. "Listening to someone's story acknowledges that their life matters."
Heidi notes that this Friday, the day after Thanksgiving, is the StoryCorps' National Day of Listening. She has posted related links on AMERICA IN WWII's Facebook page, with tips on how to gather and preserve stories.
"Put in that time around the table," she urges. "It really matters."
AMERICA IN WWII is available at Barnes & Noble, Books A Million, and select other bookstores. Subscription links for print editions and digital editions for tablets and mobile devices are at http://www.AmericaInWWII.com/subscriptions/.
America In WWII and AmericaInWWII.com are publications of 310 Publishing LLC of Harrisburg, Pennsylvania, a company committed to telling the stories of history in human terms.