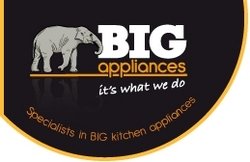 a truly American fridge freezer
(PRWeb UK) July 13, 2010
Big Appliances is living up to its name with its latest ranges of fridges and cookers. Big Appliances, whose expertise in the white goods industry stretches back for nearly 50 years (they started as a family run high street store in 1946 and have gone from strength to strength in the last few years) are using their spectacularly easy-use web site to unveil this summer's must have buys. There's a glorious Maytag fridge freezer; additions to their Leisure range cooker and Belling range cooker lines; and the introduction of the famous Stoves range cooker in all its heavy weight incarnations.
The Maytag fridge is legendary both for quality and size – as the site puts it, "a truly American fridge freezer". The Maytag fridge freezer range offered on the Big Appliances site brings customers an incredible average list price saving of nearly 40% - 52% alone on the largest Maytag fridge they have available. Similar savings can be made when buying a Leisure range cooker, a Belling range cooker or a Stoves range cooker. Big Appliances' average saving on the Belling range cooker comes in at around 20% of list price: while savings on a Stoves range cooker or Leisure range cooker, respectively, show up at 25% and 30%. There's a massive 46% saving offered on the top of the line Leisure range cooker – the kind of money most companies simply can't afford to lose.
Hidden costs have been an insidious tradition in the white goods supply industry for years. Now the recession has truly bitten, companies that are trying to wean themselves off the concealed subscriptions to magazines (seriously) or massive delivery costs incurred when buying a Falcon range cooker or a Stoves range cooker through them, have fallen dangerously behind the curve. Big Appliances, on the other hand, who never did that kind of thing in the first place, have no extra portion of their price tags to lose.
And so they can continue to unveil top notch new models of maytag fridge freezer, Belling range cooker and the like, without worrying that their accountant is suddenly going to be presented with a set of anaemic looking invoices.
It's a pretty big victory for the little man – and it's reflected very nicely in the style and size of the ranges available on the Big Appliances site. Perhaps in future, the big guns won't be so greedy.
Big Appliances is an Essex based white good supplier. All of their items are delivered free of charge across mainland UK, within 24 hours.
###