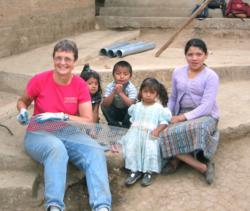 StoveTeam Ecocina stoves are fuel-efficient, safe, smokeless, portable, cool to the touch, and need just a few pieces of kindling to cook a full meal.
Eugene, Ore. (PRWEB) November 03, 2011
Eugene resident Nancy Sanford Hughes received international recognition today as a Purpose Prize® Award recipient. The $100,000 award will benefit StoveTeam International, the nonprofit organization she founded in 2007. StoveTeam International solves medical and environmental problems by helping start sustainable, locally owned factories to promote the use of safe, affordable, fuel-efficient stoves in the developing world
Civic Ventures, a nonprofit organization focused on work for a social purpose started The Purpose Prize® in 2005. It is the only national award to specifically recognize people over the age of 60 in "encore careers" making a social difference in the world. Five individuals over the age of 60 are selected each year to receive up to $100,000 to be put towards their endeavors, and Nancy is one of the two international winners.
To watch The Purpose Prize® video featuring Nancy click here.
Nancy will be honored at the 2011 Purpose Prize awards ceremony on December 1 in Sausalito, Calif. The approximately 300 attendees of the invitation-only event will hear from Purpose Prize judges, including NBC's Jane Pauley and Sherry Lansing, CEO of The Sherry Lansing Foundation and former chair of Paramount Motion Picture Group. The 28 judges – leaders in business, politics, journalism and the nonprofit sector – chose the five winners from a pool of more than 1,000 nominees.
Nancy founded StoveTeam International in 2007 using matching funds from Eugene Southtowne Rotary. Nancy first saw the debilitating burns and devastating effects of smoke inhalation caused by open cooking fires when she served as medical mission trip in Guatemala in 2004. She learned that more than two million premature deaths annually are caused by exposure to smoke from traditional open fires, with women and children the most afflicted. It is one of the top five overall health risks in poor, developing countries, and the cause of twice as many deaths as malaria.
A colleague nominated Hughes for the award, and when informed of the honor, she said, "I feel humbled. I did not choose to do this work—it chose me. The recognition is great; it will enable us to leverage StoveTeam's expansion and protect even more children and families by reducing the use of open cooking fires. StoveTeam Ecocina stoves are fuel-efficient, safe, smokeless, portable, cool to the touch, and need just a few pieces of kindling to cook a full meal."
In the past three and a half years alone, StoveTeam has helped establish six factories in El Salvador, Guatemala, Honduras, Mexico and Nicaragua. Hughes and StoveTeam is currently researching new stove-making options for Ghana, Paraguay, Fiji and Kenya where they plan to open more factories in the coming year.
Twitter: @StoveTeam
For more information, including high resolution photos and contact information for the son of a StoveTeam factory owner in Honduras (English speaking) please contact Krista Detwiler.
For more information on StoveTeam International visit http://www.stoveteam.org.
###