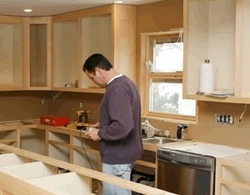 Top seller of Granite, and Kitchen Cabinets in St. Petersburg, FL.
St. Petersburg, FL (PRWEB) March 5, 2011
OE Kitchen and Bath announced today that it will expand the number of wood cabinets they currently carry in their St.Petersburg showroom.
OE Kitchen and Bath Design currently has many different style kitchens on display, which show off their design capabilities, installation skill, elegant granite styles and patterns, marble, and quartz countertops.
OE Kitchen and Bath currently carries Door Components, Matrix, All Wood, River Run, Midwestern, TSG, Eudora, Six Square and our own "In House Brand" of all wood cabinetry making it the showroom with the largest door-style selection in Tampa Bay. OE's granite yard is also conveniently located on site making it a true "one stop shop" for cabinets and countertops. Marble and Quartz countertops are also offered at tremendous discount.
"With such a wide selection of all wood cabinetry and countertops in one location, there is really no reason to go anywhere else," Johnny Oldja, Operations Manager at OE Kitchen and Bath said. "We provide the highest quality kitchen remodeling products at the lowest price in Tampa Bay."
OE Kitchen and Bath design center has kitchen and interior designers, cabinet builders and installers, granite fabricators, granite installers, and an architect and general contractor on staff ready to accommodate your kitchen and bathroom remodeling needs. Our designers are carefully chosen based on their experience and expertise and are ready to help assist you in color matching and material selection to ensure your new kitchen turns out just the way you envisioned.
About Oldja Enterprises
OE Kitchen and Bath is a St. Petersburg based business that has been operating in the Tampa Bay area and the surrounding counties for over 30 years. Oldja Enterprises is considered one of the best remodeling contractors in Pinellas county according to Angie's List, a popular website dedicated to grading all kinds of service providers. OE Kitchen and Bath has received straight A's on its last 7 reports.
Contact:
Johnny Oldja
OE Kitchen and Bath Design
727 526 3240
john(at)oldjaenterprises(dot)com
# # #