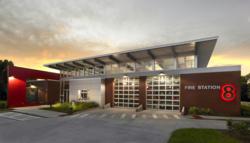 St. Petersburg, Florida (PRWEB) November 26, 2012
On Saturday, December 1st, the St. Petersburg Modern Home Tour will give Tampa Bay area residents the opportunity to explore the inside and outside of some of western Florida's coolest examples of modern architecture. The self-guided driving tour will feature six to ten architecturally progressive and contemporary homes that exemplify modern living around the city. Visitors will see first-hand the visually astounding principles of modernist thinking come to life.
Fire Station 8's newly designed house will be included on the tour as a featured property. Because of the 72-hour shifts firemen serve, a comfortable residential space was important to and is featured prominently in the building's design. This makes Fire Station 8 a perfect fit for the St. Petersburg Modern Home Tour, and the perfect non-profit partner; they will receive a portion of the tour's proceeds.
Ingrid Spencer, former managing editor and current contributing editor for Architectural Record Magazine in NYC, has selected the homes for the St. Petersburg Modern Home Tour. Homes, neighborhoods and architects featured on the tour include:

Fire Station 8's new building in Bayou Shores designed by Wannemacher Jensen Architects
A home right on the shore designed by Halflants + Pichette
A 7th floor penthouse condominium on the northern edge of downtown St. Pete designed by Mesh Architecture
A mid-century modern classic in Snell Isle designed by William B. Harvard Sr.
A mid-century modern classic in Bahama Shores by Frank Rowell
A 21st-floor unit in one of Downtown St. Petersburg's newest residencies
For details, a current list of homes, and all ticket information, please visit http://stpetersburg.modernhometours.com.
Participating homes on the St. Petersburg Modern Home Tour will open their doors to tour-goers from 11:00 AM – 5:00 PM on Saturday, December 1. Tickets are $30 in advance online; available for $40 on the day of the tour. Kids under 12 are FREE! The St. Petersburg Modern Home Tour is sponsored by Haiku Fans, Yelp! and Design Public.
About Modern Home Tours, LLC: Based in Austin, Texas, Modern Home Tours, LLC was founded by partners Matt Swinney & James Leasure to introduce Modern architecture and living to people across the nation. Through fun and informative tours in dozens of cities across the USA and Canada, we invite people into some of the most exciting examples of Modern architecture and design in the nation. With carefully selected architects, neighborhoods and architecture, our home tours are unlike anything you've ever seen. Not only will you learn about the cutting edge of home design while on our tours, but you might even get an idea or two for your next home project!