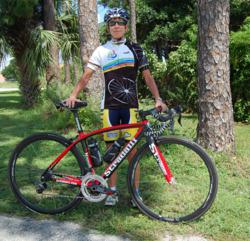 All the staff here at Stradalli wish her every success in 2013 on the Napoli
Pompano Beach, FL (PRWEB) October 04, 2012
Stradalli Cycle, the high performance carbon bicycle manufacturer, is pleased to announce that multiple national and world Masters champion Susan Shook will race the 2013 season on a Stradalli Napoli.
Susan, who is a three time UCI Women's World Masters road champion and five time UCI Women World Masters time trial champion, has acquired a Stradalli Napoli with FSA SL-K crank and brakes to use during the 2013 season.
The Stradalli Napoli is a full carbon road bike using 100% 3k carbon fiber with a tensile strength of 50 tons per square cm. It offers more horizontal deflection than other carbon fiber bikes and the curvature of the top-tube and seat-stay allows the frame to flex in a direction that provides a softer, more forgiving ride. But because the frame uses a BB30 bottom bracket and over-sized tapered head-tube, there is no loss in performance.
"Susan Shook is a consummate professional, as well as her world championships she was the USA Masters National Road Champion and has twice completed the grueling Paris-Brest-Paris course," said Thomas Steinbacher. "All the staff here at Stradalli wish her every success in 2013 on the Napoli." As well as her many championship wins, Susan Shook also raced on the PRO-circuit for 10 years with like Idaho women's challenge, Tour de Toona, Redlands and Killington.
About The Stradalli Cycle Company
The Stradalli Cycle Company is based in Florida and sells worldwide to the keen athlete who demands the best equipment. With years of experience in both high tech manufacturing and design as well as a love for cycling, Stradalli brings passion and innovation to the road racing and time trial markets.
Contact
sales (at) stradalli (dot) com
954-283-8585