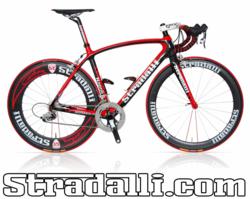 Congratulation to Grant Potter. He had an excellent ride and a fitting victory
Pompano Beach, FL (PRWEB) April 01, 2013
Stradalli Cycle, the affordable high performance carbon bicycle manufacturer, is pleased to announce that Grant Potter won the amateur crit finals at the Delray Beach Twilight Festival Cycling Races 2013. Riding for Team Graner Law-Stradalli Cycle, Potter crossed the line over a second ahead of his nearest rival and the other members of his team came in 6th, 7th and 8th.
The Twilight Festival Cycling Races were held on March 22nd to March 24th and included kids races, BMX events and the amateur crits races. The event was made possible with the support of local sponsors including Jaco clothing , F3 nutrition, SRD Builders and Prachel Painting.
"Congratulation to Grant Potter. He had an excellent ride and a fitting victory," said Thomas Steinbacher, CEO of the Stradalli Cycle Company. "Grant is the captain of Team Graner Law-Stradalli Cycle and he led the team to a good set of results."
Every member of Team Graner Law-Stradalli finished in the top ten. Florida Points champion Ken Vida managed an impressive 6th place, while multiple state time trial and pro criterium champion Curtis Long finished 7th. In 8th was former Captain of the U.S. Armed Forces Cycling Team Steve Mlujeak.
The team sponsors can be equally proud of Team Graner Law-Stradalli Cycle's success. The win was partially due to their help. Stradalli Cycle warmly thanks Jaco Clothing, an elite performance sports brand; F3 nutrition, which provides nutritional products; SRD Builders, a building company with a pride for craftsmanship; and Prachel Painting, who specialize in quality painting and fine finishes. Florida can be proud of everyone's contributions.
About The Stradalli Cycle Company
The Stradalli Cycle Company is based in Florida and sells worldwide to the keen athlete who demands the best equipment. With years of experience in both high tech manufacturing and design as well as a passion for cycling, Stradalli brings passion and innovation to the road racing and mountain bike markets.
Contact
http://www.stradalli.com
sales(at)stradalli(dot)com