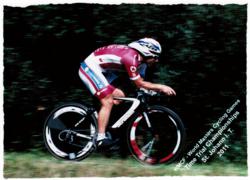 Again and again we are seeing professional athletes achieving great results on Stradalli.
Pompano Beach, FL (PRWEB) September 06, 2011
Stradalli Cycle, the high performance carbon bicycle manufacturer, would like to congratulate Grant Potter on his second place at the Time Trial Championships event held at St. Johann as part of the 2011 World Masters Championship. Grant was able to take the podium thanks to his Stradalli Phantom TT-717– a full carbon fiber time trial cycle.
Grant is no stranger to the winners podium and has won many Masters trophies in the last several years and was the 2009 U.S. Masters National Champion. In 2010 he finished in the top ten at the USA Cycling 2010 Masters Road Nationals in Lexington, Kentucky and he also won best overall rider at the Gwinnett Bike Fest in Georgia. He was also the 2010 and 2011 Deutchlandberg Worlds TT winner.
The man that snatched victory from Grant was none less than Swiss champion Michael Themann. Grant comes from the relatively flat state of Florida in the USA where as Michael, who trained under four-time World Time Trial Champion and Olympic gold medalist Fabian Cancellara, is used to tough mountain riding.
"All the staff here at Stradalli would like to congratulate Grant for his excellent podium finish" said Thomas Steinbacher of Stradalli. "We are pleased and proud that Grant was able to put in such a great performance on one of our bikes. Again and again we are seeing professional athletes achieving great results on Stradalli."
The World Masters Championship at St. Johann in Tirol is one of the most well renowned cycling events in the world. Each year thousands of participants, from over 50 countries, come to compete on the 40km circuit which takes the rider on a testing run through the mountains around the beautiful market town.
About The Stradalli Cycle Company
The Stradalli Cycle Company is based in Florida and sells worldwide to the keen athlete who demands the best equipment. With years of experience in both high tech manufacturing and design as well as a love for cycling, Stradalli brings passion and innovation to the road racing and time trial markets.
# # #