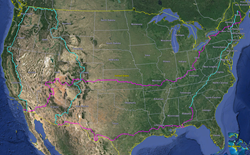 "I have always wanted to connect the United States' three major long-distance trails contiguously under my own power," Bradley says.
Reno, Nev. (PRWEB) June 18, 2014
Long-distance eco-adventurer Adam Bradley, who set the 2009 Pacific Crest Trail unsupported shared speed record, is attempting to be the first person to connect the three major wilderness trails in the United States, and the terrain between, using only his own power.
The 15,674-mile route transits 35 states while weaving between the Pacific Crest Trail (PCT) on the West Coast, the Continental Divide Trail (CDT) through the Rockies and the Appalachian Trail (AT) in the East. Bradley plans to cover 8,628 miles on foot hiking the trails, and ride his bicycle another 7,046 miles shuttling between them. He aims to complete the route in 16 months, using only the engine of his body to have a minimal impact on the environment.
"I have always wanted to connect the United States' three major long-distance trails contiguously under my own power," Bradley says. "The route begins and ends at my front door in Reno as part of my commitment to leave as small a footprint as possible on the environment. We don't have to fly to far-off places to experience the wilderness outside our front doors."
Bradley has dubbed his course the "Strange Loop" to reflect its zigzag nature. It bounces from California to Maine, Alabama to Oregon and even parts of Ontario, Canada before circling back to his home in Reno, Nevada.
Bradley's ramble will benefit the Road Ecology Center at the University of California at Davis by providing data to better understand wildlife migration and roaming patterns. Bradley intends to map road kill sites for future roadway and transportation planning.
"In addition to being environmentally sensitive, connecting the trails by bicycle and walking is the perfect speed to collect data for science," Bradley says.
The Strange Loop Route
Bradley plans to leave his front door by foot around June 21, the summer solstice, and connect with the PCT near Lake Tahoe before heading south, to cross the Mojave Desert in July and August, when temperatures can reach 120 degrees.
From the southern terminus of the PCT on the Mexican border, he plans to ride to Katahdin, Maine to begin the Appalachian Trail. After hiking through Great Smokey Mountains National Park, he aims to walk to Sylacauga, Ala. before getting on his bike again and riding to Sierra Vista, Ariz., where he'll walk until he intersects the Continental Divide Trail in New Mexico. He intends to cover the final 5,100 miles of the Strange Loop on foot, hiking to the northern end of the CDT in Glacier National Park and then traversing 600 miles west to the PCT.
Then, it's all "downhill," or south, back to his home and starting point in Reno, which he anticipates reaching in October 2015.
Bradley plans to track and share his journey in real-time on his blog, Never Came Back. He hopes to meet up with hikers, cyclists and others curious about his trip. He intends to stay connected via his iPad and cell phone throughout his trek.
"You'll be able to track me, in real-time, wherever I am," Bradley says. "So if you see that I'm coming your way, come out and give me a shout. I'd love the company."
The Never Came Back blog and Strange Loop real-time map can be accessed at krudmeister.blogspot.com.
Bradley mailed himself 108 resupply packages to pick up at various outposts, and will ship his bike ahead when he's not riding it. A long-distance hiking veteran who goes by the trail handle "Krudmeister," Bradley has covered more than 20,000 miles on foot. He says at age 42, his time has come to attempt this next, ambitious journey.
"No one has ever linked the Triple Crown completely under human power. I need to do this now for two reasons," Bradley says. "As I become older, these kinds of trips will only become harder physically. But more importantly, as I've learned on previous trips, especially in the Arctic National Wildlife Refuge, if I wait until I'm retired at 55 or 60, many of the wild places that I want to experience in life may be gone."
About Adam Bradley:
Adam Bradley is a long-distance adventurer and through hiker who set the 2009 Pacific Crest Trail unsupported shared speed record, along with Scott Williamson, for completing the route in 65 days. Named a "Notable Nevadan" by Nevada Magazine, Bradley walked from Las Vegas to Reno in 2010 along the state's renewable energy corridor in support of the Nevada Wilderness Project. In 2012, he crossed into the Arctic Circle while completing a 4,738-mile, human-powered bike, hike and paddle from his front door in Reno to the mouth of the Yukon River where it empties into the Bering Sea. In 2013, he embarked on the Tippy Top Tour, riding his bike roundtrip from Reno to Prudhoe Bay, Alaska to study shore birds in the Arctic National Wildlife Refuge as a recipient of the Patagonia Environmental Internship. He is committed to low-impact "eco adventuring" by human power. He and his wife Shelly Culbertson live in Reno, Nev.